Navy, FD surprise sailor with ceremony honoring lifesaving response
U.S. Navy Senior Chief Mark B. Shipley, who is also a volunteer firefighter, was awarded a commendation medal for resuscitating a man in cardiac arrest
---
Greg Smith
The Day, New London, Conn.
GROTON, Conn. — U.S. Navy sailors and Gales Ferry firefighters joined on Friday for a surprise ceremony to honor the lifesaving efforts of one of their own.
U.S. Navy Senior Chief Mark B. Shipley, Chief of the Boat for the submarine Iowa (SSN 797) and a volunteer with the Gales Ferry Fire Company, arrived with fellow sailors at the Submarine Force Museum on Friday morning for a showing of the classic World War II submarine comedy "Operation Petticoat."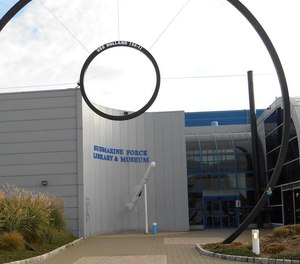 He walked into the museum to find fellow crew members and firefighters, along with his young son Luke, lined up in his honor. He suspected something might be going on because of the two fire trucks parked outside.
Shipley was awarded a commendation medal from the Secretary of the Navy for his efforts with fellow firefighters to save the life of a Gales Ferry man. Firefighters had responded to a distress call for a man suffering from severe respiratory distress.
The patient went into cardiac arrest and Shipley began cardiopulmonary resuscitation while attaching a defibrillator and carried the patient down a flight of stairs into an awaiting ambulance. He continued CPR with the ambulance crew and paramedic on the way to Lawrence + Memorial Hospital. The man had regained a pulse after 30 minutes of CPR.
"Senior Chief Shipley's distinctive accomplishments, unrelenting perseverance and dedication to duty reflected credit upon himself and were in keeping with the highest traditions of the United States Naval Service," reads the commendation signed by Captain A.T. Miller, commander of the submarine squadron four.
Gales Ferry Fire Chief Anthony Saccone said, "it was a save of someone's life," not an everyday occurrence even for most firefighters. Saccone gave credit to Shipley for volunteering his time at the fire department despite the demanding schedule of a Navy sailor.
"Not only is he serving his country but he's serving his community," Saccone said.
Shipley said it was an honor to be recognized by his peers. A Chicago native, Shipley said he had volunteered with a fire department in Chicago between the ages of 17 and 19 and joined the Navy at the age of 20.
He moved to the area in 2005 and said he had been eyeing the firehouse just about every time he drove by, an itch that needed to be scratched. He finally became a volunteer in 2014.
Iowa Commander Quintin James said volunteerism in the community is encouraged but not always feasible given a sailor's duties on the base.
"It's a testament to our sailors. They have that sense of service as good citizens but it's a fine balance. We ask a lot of them," James said.
Friday's ceremony was an uplifting start to what James referred to as a "stand-down" period before the holidays.
The Iowa is a Virginia-class submarine still under construction and referred to by sailors as PCU Iowa, or pre-commissioning unit.
———
©2019 The Day (New London, Conn.)
McClatchy-Tribune News Service