Firefighters carry woman bitten by snake down hiking trail
The firefighters quickly assessed the woman's wound and provided treatment; she was rushed to a local hospital and received several doses of anti-venom
---
By Rebeca Piccardo
Sun Sentinel
COLORADO SPRINGS, Colo. — After traveling almost 2,000 miles to Colorado, a group of Fort Lauderdale firefighters didn't expect to deal with any emergencies.
Then they heard screaming. Running to see what the commotion was about, they found a young woman had been bitten by a rattlesnake while walking her dog in Pulpit Rock Park, on the north end of Colorado Springs. "I thought she was joking at first, but then I see she's crying," Anthony Perazzelli, one of the firefighters, said. "When we got to her, I see the two puncture marks, two to three inches apart, on her shin."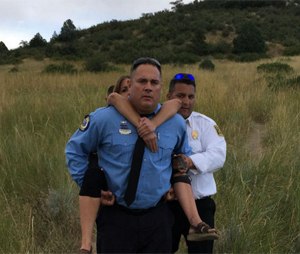 Perazzelli and his co-workers quickly applied a tourniquette and carried the woman down a hiking trail, where they were met by Colorado Springs fire rescue workers. The 24-year-old woman, who the firefighters knew only as Sarah, was rushed to a local hospital, where she received several doses of antivenom.
Read full story: Fort Lauderdale firefighters save Colorado snakebite victim