Ala. city program partners doctors with paramedics in ambulances
In the second year of the program, physicians will respond to 911 calls on a rotational basis
---
By News Staff 
ORANGE BEACH, Ala. — The city of Orange Beach and USA Health partnered to team up physicians with paramedics in ambulances to reduce response times and improve medical care to patients.
The program to place doctors in ambulances with Orange Beach Fire Department paramedics was created after the state failed in "Access to Emergency Care," AL.com reports.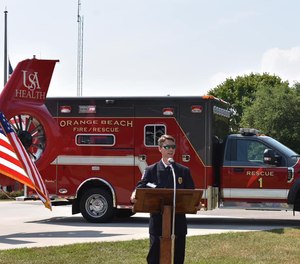 "We've been worried about our residents and access to health care," Orange Beach Mayor Tony Kennon said. "It's a good ride up to the hospital."
The partnership was created after the city invested $1.3 million into purchasing two ambulances and an additional nine full-time paramedics. This is the first time the city has owned its own ambulance services, Orange Beach Fire Chief Justin Pearce said.
In addition, the program costs the city nothing.
The program will begin on the first of July, but physicians will not be responding to 911 calls with paramedics until the second year of the program. When they start, they will be on a rotational basis.
"We want to give our resident physicians a broad spectrum of experiences," Edward Panacek, chairman of emergency medicine at the University of South Alabama College of Medicine. "We have increasingly come to understand that minutes matter with acute heart attack and stroke patients and other critical illnesses. You can either get patients to the hospital or you can get the resources, such as the physicians, to the patients. This arrangement does a little of each."
The city's current ambulance service, MedStar, will continue providing services on a backup basis.