Mich. paramedic accused of swiping morphine, fentanyl for personal use
Eric Stanke, 34, was arraigned for charges that include possession of a controlled substance and two counts of obtaining a controlled substance by fraud
---
By Roberto Acosta
MLive.com, Walker, Mich.
FLINT, Mich. — A paramedic faces prison time and thousands of dollars in fines for allegedly taking vials of morphine and fentanyl meant for patients and using it for himself.
Eric Stanke, 34, of Vienna Township, was arraigned Aug. 9 in Genesee District Court on single counts of possession of a controlled substance less than 25 grams, larceny in a building, and two counts of obtaining a controlled substance by fraud.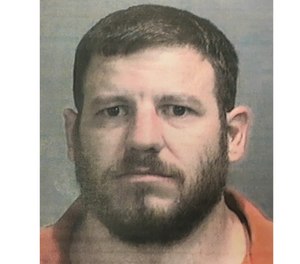 Stanke has been employed as a licensed paramedic with Mobile Medical Response ambulance service for five years and recently became a licensed registered nurse, said Genesee County Sheriff Robert Pickell at a Monday, Aug. 12 press conference.
"This investigation was prompted by an alert pharmacy director at McLaren Regional Hospital when he noticed that one of the morphine vials was tampered with and the plastic cap was replaced with a sticky substance later identified as super glue," said Pickell.
The pharmacy director then notified the Genesee County Medical Control Authority of the issue.
Bruce Trevithick, the authority's executive director, requested all drug boxes be audited by McLaren, Ascension Genesys Hospital in Grand Blanc Township, and Hurley Medical Center in Flint.
Trevithick said the incident was first reported to the authority on March 31 by the McLaren-Flint pharmacy.
"According to the report we received the pharmacy staff was alerted to the tampered Morphine vial by a paramedic who opened the drug box to use the medication and found the vial looked suspicious," said Trevithick. "They did not use the medication on the patient and reported it to the pharmacy upon arrival at the hospital."
As the investigation continued, Pickell said approximately 90 incidences of vials being tampered with and morphine and fentanyl missing were discovered.
"In all those instances the vials were replaced with a normal saline solution," said Pickell.
The sheriff noted one instance of a woman with a broken tibia being injected with four milligrams of morphine and the rest was allegedly used by Stanke.
Trevithick said the drug boxes, which he compared to a fishing tackle box in size and storage, including morphine, fentanyl and Versed, a drug used to calm the central nervous system in patients having a seizure or in an "excited delirium" from substance use.
He said after the boxes are used, personnel take them to the hospital's pharmacy and have a check done on the contents.
At the press conference, Pickell held up one of the vials allegedly tampered with by Stanke on which the suspect's fingerprints were found during the investigation.
Trevithick said the storage of the boxes by ambulance companies vary, but they are typically placed in a locked closet or cage at an ambulance base location and have a seal on them to determine if they have been opened.
Pickell also recounted an alleged incident in which Stanke responded on a call where a man was found dead upon arrival.
"He noticed the man's morphine capsules on his beside and he stole the capsules from a dead man to use for his own personal addiction," said Pickell.
Trevithick said the situation "doesn't make the EMS system look good" when someone appears to "take advantage of the system."
He also pointed to the nationwide opioid epidemic playing a factor in all fields, including the paramedic field.
While employees dealing with mental health and substance abuse issues are offered employer-provided assistance through the company, Trevithick said there is also the Health Professionals Recovery Program established by the state for licensed or registered health professionals dealing with the same issues.
However, Trevithick said EMS are not included in the state program.
"We are working to change that," he said.
Lynn Schutter, director of community and business relations for MMR, said Stanke has been placed on administrative leave.
"MMR has been fully cooperating with the Genesee County Sheriff's Office and the Genesee County Medical Control Authority since the beginning of their investigation," said Schutter, declining any further comment at this time.
Jeffrey Clothier, Stanke's attorney, said he's waiting to get the police reports regarding the allegations and had no comment other than he's happy his client is out of jail.
Stanke was issued a $30,000 personal recognizance bond and posted bail.
He's due back in court Aug. 22 for a probable cause conference in front of Genesee District Judge David J. Goggins.
———
©2019 MLive.com, Walker, Mich.
McClatchy-Tribune News Service