Mo. officer fatally shoots man who pulled gun near Ferguson
A Berkeley police officer was conducting a routine business check at a gas station when he approached two men
---
By Jim Suhr
The Associated Press
BERKELEY, Mo. — A suburban St. Louis police officer shot and killed a man who pointed a gun at him at a gas station, police said.
Scuffles broke out early Wednesday between police officers and a vocal crowd of several hundred people who taunted the officers at the scene of the late Tuesday shooting in Berkeley, Missouri. Police have not released details of any arrests. Berkeley is just a few miles from Ferguson, where a white police officer fatally shot black 18-year-old Michael Brown in August.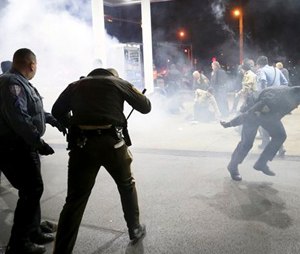 Authorities have not released any information about the identity or ethnicity of the man killed Tuesday or the police officer who shot him.
According to a statement from St. Louis County police spokesman Sgt. Brian Schellman, a Berkeley police officer was conducting a routine business check at a gas station around 11:15 p.m. Tuesday when he approached two men.
One of the men pulled a handgun and pointed it at the officer, Schellman said. The officer fired several shots, fatally wounding the man. The second man fled, and the dead man's handgun has been recovered, according to Schellman.
The St. Louis County Police Department is handling the investigation, and no further details about the incident were immediately available.
Authorities did not immediately identify the man who was shot. But the St. Louis Post-Dispatch reported that a woman at the scene, Toni Martin, said he was her son, 18-year-old Antonio Martin.
Toni Martin told the newspaper that her son was with his girlfriend at the time of the shooting.
The protesters who gathered early Wednesday milled around the gas pumps at the station, some yelling at police officers. Some wore strands of yellow police-line tape draped around their neck, with others using it as a headband.
Authorities from multiple agencies, some in riot gear, stood among the protesters.
Across the street, the glass doors of a convenience store were shattered, one of the doors left hanging from a single hinge. Police stood guard, turning people away.
The crowd dispersed but police officers remained at the scene as dawn approached.
Orlando Brown, 36, of nearby St. Charles was among the protesters. He said he didn't have all the details about the shooting but said he wondered if it was a case of police aggression.
"I understand police officers have a job and have an obligation to go home to their families at the end of the night," he said. "But do you have to treat every situation with lethal force? ... It's not a racial issue, or black or white. It's wrong or right."
Brown said he was pepper-sprayed during the protest as police tried to separate him from a friend whose hand he was holding. He said his friend was arrested for failing to disperse.
Brown's death led to weeks of protests and some looting in the St. Louis area, actions that were renewed last month when a grand jury chose not to indict Officer Darren Wilson in the killing.