'I've been stabbed': Stories from London attack survivors
Victims and their families gave harrowing accounts of the sudden and random attacks that sent scores of people fleeing crowded restaurants and diving for cover
---
By Danica Kirka and Tammy Webber
Associated Press
LONDON — The knife-wielding attackers appeared to be leaving the restaurant where Candice Hedge was hiding under a table when one of them spotted her, returning to slash her throat, the 34-year-old waitress' father told an Australian newspaper.
Hedge, who moved to London last year, had just finished her shift at Elliot's restaurant and was having a drink with her boyfriend when the attack started, Ross Hedge told The Courier Mail of Brisbane. Candice Hedge wrote on social media that she was in a "bit of pain" after undergoing surgery.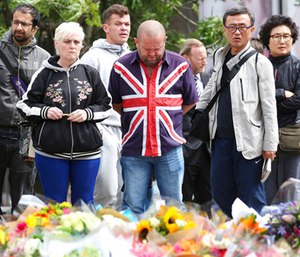 "But I will survive," she said.
Hedge was one of at least 48 people who were injured in the attack carried out by three men in the London Bridge area that also left seven people dead and worried friends and relatives frantic to find out about others still missing. Eighteen of the injured remain in critical condition.
Victims and their families gave harrowing accounts of the sudden and random attacks that sent scores of people out on a Saturday night fleeing crowded restaurants and pubs or diving for cover. Others had no chance to react.
Ross Hedge said his daughter was "very lucky," though "she was terrified, of course."
The Islamic State group has claimed responsibility for the brazen attack that started on London Bridge, where three attackers drove a rented white van onto a sidewalk and into pedestrians. Then, armed with knives and wearing fake suicide vests, they rampaged through Borough Market, an old-fashioned outdoor food market by day surrounded by bars and restaurants that come alive at night.
Australia's foreign minister said Hedge was among three Australians injured in the attacks. Foreign Minister Julie Bishop said Andrew Morrison received stitches for a stab wound to his neck and was on his way home to Australia. The government is still making inquiries into the third Australian's condition.
Morrison, an electrician from Darwin, posted on social media that he had been stabbed leaving Belushi's London Bridge bar after watching the Champions League soccer final.
"All of a sudden this guy comes up with a knife. I just, like, push him off. I walk into a pub and I'm like: 'Someone help me, I've just been stabbed,'" Morrison said in a video.
Metropolitan Police Assistant Commissioner Mark Rowley said Sunday that a member of the public suffered gunshot wounds as officers opened fire and stopped the attackers.
A worker at Wheatsheaf pub, Fabio Lamas, 20, told NBC News he saw a patron get shot in the head by a stray police bullet as he stood by a window inside the establishment. At least one of the attackers was fatally shot outside the pub.
Lamas said the victim was conscious and "he was bleeding through his eye."
"I went to get the first-aid kit and I started speaking to his friends and to try and calm them down," he said.
Daniel O'Neill, 23, had just stepped outside a pub near Borough Market when he was attacked, his mother, Elizabeth, told reporters Sunday outside Kings College Hospital in London.
"A man ran up to him and said 'This is for my family, this is for Islam,' and stuck a knife straight in," she said. "He's got a seven-inch scar going from his belly round to his back."
Also among the injured was the business editor for Britain's Sunday Express newspaper. Editor Geoff Ho was photographed walking toward an ambulance on the arm of a police officer with a makeshift bandage on his neck. Ho intervened as the attackers tried to knife a bouncer at a pub, the newspaper said.
"Don't know whether it was stupid or noble to jump in and break up the fight outside the Southwark Tavern," Ho wrote on his Facebook page, the newspaper said.