DA not filing charges in collision that killed Calif. paramedic
Officials said there was a "lack of sufficient evidence" that prevents charges from being filed in the collision that killed Eddie Lustro
---
By EMS1 Staff
PALM SPRINGS, Calif. — A district attorney's office will not pursue charges related to a collision that killed a paramedic who was on his way home after shift.
Riverside County District Attorney's office spokesman John Hall said there was a "lack of sufficient evidence" that prevents charges from being filed in the March 18 collision that killed paramedic Eddie Lustro, according to the Desert Sun.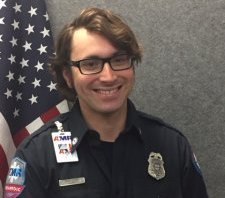 Sgt. Mike Casavan, who forwarded the case to the DA's office in June, said there was "no further information to investigate."
"Our traffic investigators have fully investigated this incident, but the burden of proof fell short to file criminal charges," Sgt. Casavan said.
Lustro, who was riding a motorcycle, was on his way home from work when a driver made a U-turn in front of the oncoming paramedic. He died at the scene.
The driver who struck Lustro cooperated with police and it was determined that no drugs or alcohol were involved in the crash.