N.Y. bus crash hospitalizes 26, traps driver
Emergency crews took two hours to extract the driver after the three-vehicle crash
---
The Associated Press
SYRACUSE, N.Y. — A New York City-bound bus crashed into a wrecked car and a tractor-trailer on Interstate 81 outside Syracuse early Thursday, injuring more than two dozen people, authorities said.
A Pine Hill Trailways bus with 52 passengers on board was traveling south on I-81 around 2:30 a.m. when it slammed into a car that had just crashed into a guard rail. The bus came to rest in the highway's left lane just south of Syracuse, the Onondaga County Sheriff's Office said. Deputies said the bus then hit the rear of a tractor-trailer whose driver had pulled over on the highway's shoulder to offer assistance to the car's driver.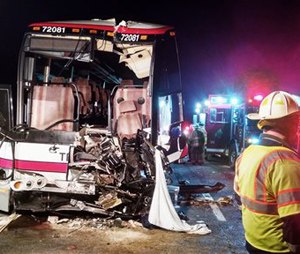 Twenty-six of the passengers and the bus driver were injured, official said. It took emergency crews two hours to extricate the driver from the vehicle's smashed-in front end, deputies said. The bus driver, Kelvin Sharpe Sr. of Buffalo, was in critical condition at a Syracuse hospital.
The injured passengers mostly suffered lower extremity, chest, back and facial injuries, all of them apparently minor, police said. They were transported to hospitals in the 10 ambulances and other emergency vehicles that responded to the crash scene.
Police say the car driver, 36-year-old Robert Tarbell of Nedrow, has been charged with driving while intoxicated. He was being held in the Onondaga County Jail on $15,000 bail.
I-81's southbound lanes were closed until shortly before 5:30 a.m.
Deputies said the bus left Toronto on Wednesday evening and was scheduled to arrive in New York city around 6:30 a.m. Thursday. The uninjured passengers were taken to Syracuse's bus station, where some boarded another bus for Manhattan, while others arranged their own transportation back home.
The bus is owned by Trailways of New York, a Hurley, New York-based company that also operates Adirondack Trailways, New York Trailways and NeOn Bus. The American Bus Association, a Washington, D.C.-based trade group that issued a statement on behalf of Pine Hill, said the company operates buses daily between Ontario, Canada, and New York City.
Dan Ronan, an ABA spokesman, said the bus picked up passengers in Buffalo and Rochester. Company officials were still trying to determine where the injured passengers are from, he said.
Robert Johnson told Syracuse's WSTM-TV that he boarded the bus in Rochester and was awake when thecrash occurred, but many of the other passengers were sleeping at the time.
"All I heard was a boom and my head hit the seat; I mean mad noise, it was crazy," Johnson said. "I never experienced that in my life and I'm still scared to death by it."