AMR ET3 program expands to Ga. counties
After a successful pilot program in DeKalb County, AMR becomes the largest group included in the CMS ET3 model
---
By Jessie Forand
ATLANTA — American Medical Response crews in North Fulton and Troup Counties in Georgia have been chosen to implement the Centers for Medicare & Medicaid Services' Emergency Triage, Treat and Transport Model, or ET3.
After a successful pilot program in DeKalb County, AMR becomes the largest group included in the ET3 model, with 62 participants out of a total 184, according to a press release from AMR.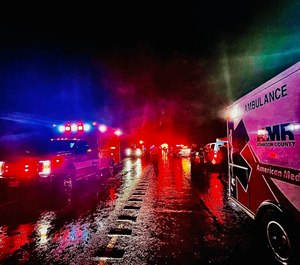 Read more: 5 things to know about the ET3 reimbursement model
The five-year ET3 program intends to bring more flexibility for ambulance care teams as they work to provide medical care for beneficiaries of the Medicare Fee-for-Service program after a 911 call is placed.
Paramedics and EMTs from AMR, which serves millions of Medicare patients, will access patients on-site then decide if they should be treated or transported to an emergency room or non-emergency facility, the press release said.
"AMR's North Fulton and Troup County operations are proud to be a part of this model, improving and personalizing healthcare for thousands," Chris Valentin, regional director of AMR Georgia said.
The program launched in North Fulton and Troup Counties on May 24 with treatment-in-place and alternative destination transport opportunities.