EMS1's 10 year anniversary: Top 10 most viewed columns
From exam tips to career advice, our top columns of the past 10 years covered all the bases
---

By EMS1 Staff
Our EMS1 columnists run the gamut on EMS-specific experience and knowledge.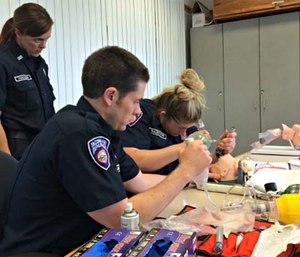 Over the past 10 years, we brought together some of the foremost experts in the EMS field who cover a wide range of topics in order to share their wisdom with readers. It's part of our commitment to bring you the most comprehensive information to help you become the best EMT, paramedic and leader possible.
Here are the top 10 most viewed columns from the past 10 years. If we missed one of your favorites, be sure to sound off in the comment section below.
And, don't forget … keep reading and keep learning.
1. Hydrocodone/APAP: Drug Whys
Learn about Hydrocodone's drug profile, proper doses, potential side effects and how it affects your patients
2. Tension Pneumothorax: Identification and treatment
Tension pneumothorax is a life threatening condition that can occur with chest trauma and is more likely to happen with trauma involving an opening in the chest wall

3. Blood pressure reading tips and tricks for EMS
Try these six tips to take some of the pressure off of getting a blood pressure
4. How to use OPQRST as an effective patient assessment tool
OPQRST is an important part of patient assessment and the start of a conversation; not the end

5. 10 intravenous access tips for medics and students
Forget the Hail Mary tactic of 'poke and pray' by knowing and using these tips to ensure you obtain IV access each and every time

6. 'Do it for Drew' by checking and rechecking tube placement
The family of a teen who died after an esophageal intubation has started the 'Do It For Drew' foundation to prevent another tragic death

7. Can oxygen hurt our patients?
The drug we use most often in EMS can cause harm if we give it without good reason

8. Top 10 words that should be in the EMS dictionary (but aren't)
Anyone who has ever watched television knows that without Ambuslaps, the EMTs would never know when it's time to take the patient to the hospital

9. How off-duty decisions can kill your career
Your life as an EMS provider goes on even when the uniform comes off, and the consequences of poor decisions can forever alter your future
10. 5 expert tips for passing the NREMT exam
Pay attention to what each NREMT exam question is asking; study high-yield 'nooks and crannies'