EMS Pioneers: Three Champs
On the eve of the "Jeopardy!" Tournament of Champions, we celebrate our own
---
I'll take "Famous Quiz Shows" for $500, Alex 
As a young college student in New York City during the early 1970s, one of my favorite excuses for cutting classes was to join my Uncle Bob at NBC's midtown studios to watch the taping of "Jeopardy!". 
You could say Bob had connections. As the producer and creator of "Jeopardy!", he'd usually be in the control room, ready to pass judgment on right and wrong answers – sorry, questions – by the time I'd arrive. All I had to do was wear a jacket and tie, keep quiet and stay out of the way. Given that my wardrobe featured paisley shirts and bellbottom jeans, the jacket and tie were the hardest parts.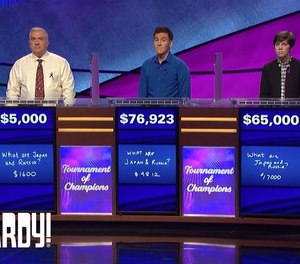 When I heard "Jeopardy!" was going to televise a Greatest of All Time contest featuring their three most successful players, I thought about how hard it would be to pick the greatest in any occupation that didn't keep score. Take EMS. What constitutes greatness? Does it even exist? 
Since 2014, I've interviewed 28 remarkable men and women we at EMS1 call EMS Pioneers. I think they're all pretty great. Many of them were providing primitive versions of prehospital care while I was 20 years away from knowing or caring about EMS. To a naïve teenager watching quiz shows at Rockefeller Center, television seemed like the most exciting thing in the world. I bet I would have had a different opinion after a couple of ride-alongs with any of our pioneers. Here are a few of those folks you may remember: 
Roger Swor 
On October 23, 2019, Congressman Pete Stauber of Minnesota's Eighth District had this to say about Roger Swor: 
"Roger is now the longest-serving street paramedic in Minnesota and was recently honored by the National Registry of Emergency Medical Technicians for achieving 40 years of national EMS certification. This is a distinction held by very few EMS professionals. 
"Roger has answered tens of thousands of 911 calls in his career. He has done everything from holding dying crash victims in his arms to delivering babies…I congratulate Roger on his recent achievement and thank him for his professional service." 
Stauber was addressing the House of Representatives at the time. His words are a permanent part of the congressional record. And yet, I doubt they mean as much to Swor as the review sessions he set up to help colleagues prepare for practical exams. 
"Supposedly, wisdom comes with experience," says the ex-Army medic and former police officer. "I figured maybe I could share some of that with people who have a deer-in-the-headlights look when it comes to the real skills of their jobs." 
Swor feels Hollywood versions of EMS are partly to blame for anxiety in the classroom and on the streets. "Emergency shows like 'Chicago Fire' make everything seem so stressful and critical," the 67-year-old says. "You can't afford to think that way. Just remember your ABCs and focus on one call at a time, one patient at a time." 
Barry Eberly 
In 1971, just before Barry Eberly was sent to Vietnam, courtesy of the U.S. Army, he signed up for EOD – explosive ordnance disposal. "It was just for the challenge," the author and retired paramedic remembers, "but my captain told me, 'You don't want to do that.' So they made me a medical lab tech and sent me to Cam Ranh Bay. 
"I tried volunteering for Dust Off [Army medevacs] but was told it was a higher priority to test soldiers for drugs than pull them out of the jungle." 
Eberly says he learned more during 17 months in the service than he had in his previous 21 years. "It was mostly figuring out how to get along with people in a variety of physical and emotional states – not unlike what we do in EMS." 
But Eberly's EMS career involved so much more than just getting along. After 17 years as a paramedic and supervisor in Delaware, he became an instructor at Dover's Bayhealth Medical Center. He started to see himself and his fellow educators as gatekeepers. "There seems to be a mindset that succeed or fail, everyone deserves an award," he says, "but I think most who work in medicine know some are cut out for it and some aren't. Teachers are well-positioned to be part of that decision-making process." 
Gene Gandy 
Fifty miles northeast of Dallas sits Honey Grove, population 2,000 only if you round up. In 1975, EMS in Honey Grove was the responsibility of the local mortuary – not unusual at that time for small towns in the Lone Star State. When Honey Grove's funeral director decided to concentrate on transporting the irreversibly dead, the city bought an ambulance, but didn't have the money to staff it 24/7. That's when Colorado attorney and Honey Grove native William "Gene" Gandy officially became an EMS Pioneer. 
"I'd moved back home to our family ranch, figuring I could practice small-town law," Gandy says. "When the city had trouble running their ambulance, I met with the mayor and suggested we start a volunteer squad. I managed to find 35 people who felt the same, so we all got our first-aid certificates and formed the Honey Grove Volunteer Ambulance Service." 
Gandy became a full-time paramedic in 1989. "I just didn't like practicing law anymore," he recalls. "It's a high-stress business. I was fortunate to have done well enough not to have to worry about income, so I figured, what the hell, I'm going to do what I like to do." 
That included plenty of teaching, a discipline Gandy says requires significant commitment from day one. "You have to know the information backwards and forwards in much greater depth than you'd ever need as an EMS provider. That means you have to do an awful lot of supplemental reading and make yourself an expert on every single point. Then you have to practice teaching. Hook onto somebody who can be a mentor." 
Final Jeopardy! 
In EMS, greatness isn't something we can measure with dollars or points, but I think we know it when we see it. Then we mostly keep it to ourselves. In our line of work, being on TV isn't necessarily a good thing. 
Even without our own mega-hyped tournament to celebrate greatness, though, we deserve one try at Final "Jeopardy!".  
The category: EMS 
The Final "Jeopardy!" answer: These three have spent a total of 135 years helping to build an industry that provides prehospital care to more than 25 million patients annually. They may not be the greatest of all time or even well known, but they did their jobs and set great examples along the way. 
The correct question: Who are Roger Swor, Barry Eberly and Gene Gandy? 
[Read about more of the EMS Pioneers who paved the way for prehospital medicine: EMS Pioneers]