Watch: ACEP, NAEMT announce EMS Week 2022 theme
The upcoming annual event will celebrate the dedication of EMS professionals
---
By Leila Merrill
WASHINGTON — The American College of Emergency Physicians and the National Association of Emergency Medical Technicians announced the theme of EMS Week 2022.
"Rising to the Challenge" is this year's theme. ACEP and NAEMT will lead activities on May 15-21.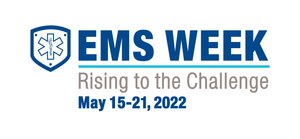 "This theme is particularly meaningful now to remind people that every day we are faced with so many new challenges in our lives and yet we still rise above them and continue to respond, support and care for the needs of our communities," Dr. Gillian Schmitz, MD, FACEP, President of ACEP, said in a video about the upcoming 47th annual event. 
Each day of EMS Week will be focused on a specific theme.
Sunday is health, wellness and resilience day
Monday is education day
Tuesday is EMS safety day 
Wednesday is EMS for children day
Thursday is save-a-life day (CPR & National Stop the Bleed Day)
More information is available on the EMS Week website.
---

Learn more
Rising to the challenge
Follow along as EMS1 industry expert contributors and readers offer tips for celebrating and recognize EMS Week 2022
---