Reality Training: Patient packaging for nursing home to home transport
How should EMS prepare family to receive a loved one and package a patient for a nursing home to home discharge?
---
Incident Date: January 19, 2016
Department: Unknown.
Many EMS agencies, private and public, as well as ambulance and wheelchair van companies provide nonemergent, BLS discharge for patients that are unable to self-transport.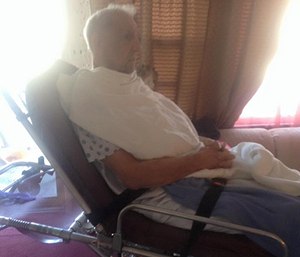 What happened: The son of an elderly dementia patient posted his disappointment to Facebook about the poor packaging for his father and lack of communication he received about his father's discharge from a skilled nursing facility. Two images posted by Ross Leonardo show his father on a cot covered with a thin sheet and wearing a gown.
"This is how Manor care in West Deptford Twp. sent my father home," wrote Leonardo. "We received no phone call to verify if anyone was home the weather outside is 1°."
Leonardo wrote that they have previously had problems with ManorCare Health Services. Discharge papers indicating if Leonardo's father had eaten or received his medications were not sent home with the patient.
"Please share this (post) as many times until the right people see this and something gets properly addressed," wrote Leonardo. "We send our parents to places like this to be treated for Alzheimer's and dementia."
Discussion: Best practices for patient packaging and family communication
If your agency does not provide hospital to home or SNF to home discharges broaden the scope of the questions to transports of dementia patients from home to hospital or SNF to hospital. The family's expectations for care and communication are unlikely to differ:
Discuss these questions about patient packaging and communication with your partner, company or squad.
1. How do you package patients for transport, especially when the weather is inclement, to ensure the patient is warm and comfortable?
2. What questions do you ask the staff discharging the patient to ensure the patient's family or home caregiver is ready to receive the patient?
3. In addition to the patient's most recent meal and medications what other patient history should EMS providers know or have access to before transporting the patient?
4. What would you do if you arrived at a home with a dementia patient and there was no one at the home to receive the patient?
Finally, there was an opportunity for the transporting agency — EMS or wheelchair van — to provide outstanding customer service by making sure the patient was well cared for during transport and the expectations of the family were met when dropping off the patient at home. There is an additional opportunity for the transporting agency, as well as the skilled nursing facility, to explain what happened, apologize and take action to prevent a future incident.
Share your answers to these questions and other tips for hospital to home and nursing home to home patient discharge transports in the comments.