PRESS RELEASE
Technimount System is a finalist for the 2019 EMS World Innovation Awards with an industry-changing mounting system
---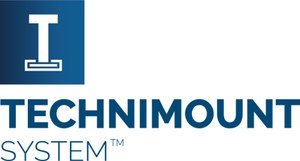 QUEBEC, QC ― Technimount System ("Technimount"), manufacturer of universal mounting solutions for portable medical devices, was named one of the top 30 finalists for the 2019 EMS World Innovation Awards.
Technimount's nomination for a third year in a row as a finalist for the EMS World Innovation Awards testifies to its commitment to address first responders' crucial needs for safety and flexibility. This year Technimount is presenting the CardiatekTM, a universal mount for specialized portable medical devices suiting different applications such as on surface, floor, cot/stretcher and walls. The system fits any ground and air ambulance configuration for critical care transport in North American and European markets. This innovative solution was designed for Abiomed's Automated Impella® Controller (AIC) which commands the world's smallest heart pump, bringing this most advanced and beneficial technology to patients and physicians everywhere.
Made of high-density aluminum, the CardiatekTM is a robust solution that complies with the highest industry safety standards for the transport of medical equipment, SAE J3043. The system ensures that the medical device is secured during transport to avoid possible injuries to patient and crew as well as to reduce risks of damage causing costly repairs or complete replacement of the medical equipment.
"Technimount has built its reputation on the high quality of its products and the unparalleled flexibility that allows emergency medical services to use different medical devices when transporting patients in ground and air ambulances" said Carl Bouchard, Founder and CEO of Technimount System. "We are convinced the Cardiatek will revolutionize the concept of portable medical equipment since for the first time a life changing device will be able to follow the patients securely regardless their location".
Technimount will be unveiling its award finalist mounting system during the EMS World Expo, from October 14th to the 18th in New Orleans at booth #721. Technimount will also be showcasing its many renowned mounting solutions for portable medical devices for emergency medical services.
About Technimount System
Technimount designs and engineers mounting solutions for medical equipment including defibrillators, ventilators, and pumps or other devices, for hospital, EMS, and military environments. Technimount System is the only manufacturer to have a universal mounting system that can fit multiple brands, models, and applications of portable medical equipment for ambulances, stretchers, and hospital environments.
Twitter: @TechnimountSyst
Facebook:@technimount
LinkedIn: Technimount System

Request more info from Technimount E.M.S.
Thank You!