MagneGrip exhaust removal systems firehouse installations have cleaner air for firefighters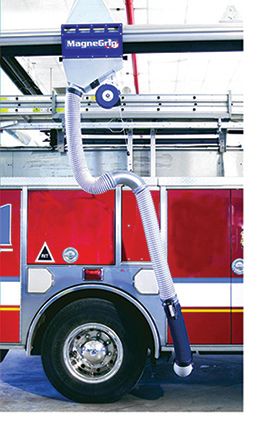 MagneGrip Exhaust Removal Systems and AirHAWK Air Purification Systems remove vehicle exhaust emissions and other contaminants in firehouses to reduce firefighter risk for cancer, respiratory and cardiovascular diseases while keeping spaces clean and tidy.
At Mount Pleasant Fire Department (Mount Pleasant, SC), a combination of MagneGrip Sliding Balancer Track (SBT), Straight Suction Rail (SSR) and modified Vertical Stack Rail (VSR) exhaust removal systems were installed in six firehouses. The Straight Suction Rail (SSR) provides door-to-door exhaust capture in firehouses with drive-thru bays where trucks are parked in tandem. The Sliding Balancer Track (SBT) System is used for areas in firehouses with back-in bays. The Vertical Stack Rail (VSR) System has a wireless signal that starts the exhaust fan when the apparatus is engaged. All exhaust emissions are drawn through the suction rail and vented outside the building. In one firehouse, a modified Vertical Stack Rail design was requested to accommodate their apparatus parking specifications. MagneGrip engineered and installed the modified system so that engine checks and start up can be performed inside the firehouse.
"A big benefit of the MagneGrip System is the ease of use. The hose snaps on to the patented MagneGrip tailpipe adaptor with magnets; then auto sensors turn the blowers on when the apparatus is started to begin exhaust removal. It's so quick and easy to use, our firefighters attach the nozzle, jump on the truck and we're on our way," said Captain Ronald DuBose. "As firefighters, we have a 40% greater chance than the general public of getting cancer, cardiovascular and respiratory diseases. It's reassuring to know that with our exhaust removal system, we are reducing that risk and worry."
MagneGrip Exhaust Removal Systems offer the easiest to use and most problem-free equipment available. They have the lowest maintenance requirements of any system. The patented magnetic nozzle provides an airtight seal and is 100% effective in removing exhaust emissions. MagneGrip's 1,000° F rated hose is now standard equipment.
MagneGrip Group also manufactures AirHAWK Air Purification Systems with ceiling-mounted air filtration units positioned to remove hazardous diesel exhaust and other contaminants.
For information call 800-875-5440 or visit www.magnegrip.com.
About MagneGrip Group
Founded in 1993, MagneGrip Group is the #1-rated solution to the health threat of diesel exhaust emissions in firehouses and vehicle maintenance facilities. MagneGrip systems are professionally installed by a nationwide team of service technicians to provide 100% guaranteed satisfaction.
As an American manufacturer, MagneGrip Group is the only company that produces both hose-type exhaust removal systems and air purification systems. This combination of systems provides the most complete protection for fire personnel and it best fits the intent of FEMA and NFPA recommendations. MagneGrip's 1,000° F rated hose is now standard equipment.