Fla. city joins PulsePoint service so that bystanders can help save lives
Anyone who downloads the app agrees to share their location via GPS and receive alerts when someone in a public place is in need of resuscitation
---
By Lisa Maria Garza
Orlando Sentinel
WINTER PARK, Fla. — Winter Park is the latest city in Orange County to join PulsePoint, a free mobile app that connects users trained in CPR to nearby victims of cardiac arrest.
Anyone who downloads the app agrees to share their location via GPS and receive alerts when someone in a public place is in need of resuscitation. Orange County Fire Rescue opted into the program last year and Orlando joined the community in 2013, which links the city's 911 system to the app so a dispatch call for emergency assistance pops up on the app. Someone nearby with the app can rush to the scene and start CPR before first responders arrive.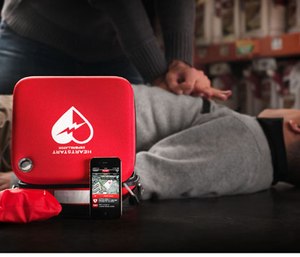 "When we arrive, compressions are already being performed and that elevates the potential for spontaneous circulation, meaning that they are able to breathe and sustain a blood pressure on their own," Winter Park Fire-Rescue Department Chief Dan Hagedorn said.
Every year in the U.S., there are more than 356,000 cardiac arrests cases that occur outside of a hospital and nearly 90 percent of cases are fatal, according to a 2018 report by the American Heart Association.
The majority of incidents occur at home or in a public space, the report said. The average survival rate is 10 percent, but one in three people is revived when someone is close by to administer CPR.
PulsePoint, a nonprofit organization based in San Francisco, said the mobile app uses little battery power even though it's always running in the background and a user's data plan won't take a significant hit every month.
About 3,300 cities nationwide are connected to the PulsePoint community and the mobile app has more than 1.4 million subscribers. The company also offers a separate app that tells users where to find a nearby automated external defibrillator.
PulsePoint charges the communities an upfront integration cost and an annual maintenance fee based on its size.
Hagedorn said the city received a grant for the first year of implementation and will have to the pay the software-related fees every year but are "committed to supporting it."
Copyright 2018 Orlando Sentinel
McClatchy-Tribune News Service

Request product info from top EMS Technology companies
Thank You!