How to use stretchers and cots to their full potential
Flexible stretchers and cots are often misused or misunderstood; here's a breakdown of what to use when for safer patient transports
---
I recall my first shift as a green EMT looking to my experienced Field Training Officer (FTO) to teach me all about this 'street medicine' everyone had been talking about in school. Of course our very first call was to a skilled nursing facility. 
My FTO instructed me to "go ahead and get into bed with the patient, on your knees so we can slide her over to the cot." Responders, can we be honest with ourselves for a moment; are you really "helping" transfer the patient by kneeling in or standing on the bed? No, you are not helping.
My first career, 15 years working in the physical therapy and pain clinic world, was spent treating spine disorders and pain issues. I came into EMS late in the game, but I have come to realize my first career afforded me a unique perspective on how we do our job. I have come to look at EMS this way; we are in the moving business and happen to provide fantastic patient care in the process.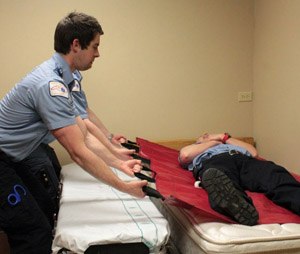 My other observation is that the manufacturers are not adequately conveying the message of how to properly use their products. Or maybe we are simply not listening? I see this in two types of equipment; flexible stretchers and patient cots.
Flexible stretchers: aka the lifting tarp
Call after call I was taught to move patients, handle equipment and do my job in ways that I knew doubled and sometimes tripled the load on my body. Let's examine the techniques involved in the patient move you do every day: the lateral transfer. 
Technique 1: The sheet drag
Many EMS providers use a bed sheet to move patients from bed to bed. Science tells us that a bed sheet is not an approved patient transportation or transfer device. A bed sheet does not have handles which alter grip and hand position.
If we follow the NIOSH lift equation recommendations we need to keep spinal compression forces below roughly 800 pounds. However, pulling a 105-pound  patient with a bed sheet between two beds loads your spine with between 900 to 1,800 pounds of compression force. Most of our patients weigh much more. We probably average over 2,500 pounds of force on the spine each call. Alarmingly, injury begins to occur at 800 to 1000 pounds of force.
Technique 2: The frictionless transfer
A great benefit of my job is that I train well over 50 EMS departments per year across the country. I get to see every type of EMS system and patient transfer gear. In every department the one tool that most already have on the ambulance, but is thoroughly misused or unused is the flexible stretcher. 
Flexible stretchers have been marketed to us as 'bariatric tools,' so they stay on the truck unused for most patients. To clarify, I am talking about normal person sized vinyl tarps such as a mega-mover or Taylor Titan.
By using the flexible stretcher, a tool you already have, we can do some cool things. First, both responders can stay on the same side of the bed. Two people pulling are much more efficient than one pulling from the bedside and one person kneeling in the bed pretending or attempting to help. The vinyl tarp also reduces the spinal load well below 800 pounds of compressive force. A dangerous move is instantly safer.
Plus, when you get to the hospital the patient is still on the tarp. Simply slide the patient over, with both of you on the same side and retrieve your tarp back.
Unlike a slide board, tarps can be used for slides, drags, lifts, and transfers.  Tarps are also simple to clean and quickly refolding and placed under the head of the cot; ready to go for the next patient.
Stretchers: aka the cot or pram
The ambulance stretcher is one the most expensive and heaviest tools that EMS 'movers' use.  It is also the tool that I see the greatest amount of operator error and personal interpretation of the manufacturer's recommended usage guidelines.  
Recently I was talking to a rural EMS chief and asked what type of stretchers they were considering: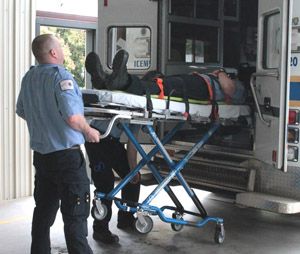 Notice the spinal load and extension. (Image Bryan Fass)
EMS Chief:  "We are about to buy brand new manual lift stretchers."
My standard reply is, "as a rural EMS service with limited first responder support, why not invest in powered stretchers so that your small crews can lift as a team?"
EMS Chief: "Well that's because the crews feel that they are too heavy to bring in the house, too heavy to pull across the lawn, and too heavy lift."
If you are already a user of powered stretchers you know what is wrong with those concerns. If you are a manual stretcher user, let's dial this in. 
1. Powered cots are only to be loaded and unloaded from the ambulance, patient or not, with two responders at the end.
2. Powered cots are never to be carried up stairs. They need to be married to a tracked stair chair. Use the stair chair to move the patient up or down stairs.
Powered cots drastically reduce the error of moving patients from point A to point B at LOAD height, which is the full up position that is only for loading and unloading the cot. The rest of the time the cot is designed to be in transport height. Transport height is roughly ¾ of the way raised, but not all the way up.
Major insurance companies track moving a patient at load height as the number one cause of dropped and tipped cots. Manual cots are not designed to be lifted from the floor to the full up position (load height) in one motion. Manual cots are two-stage lift stretchers; lift it halfway and move to the truck then raise the cot to load height.  
Train: aka read and watch
When I ask EMS providers if they have read the user manuals or watched the how-to videos for their cots and tarps, I usually get a blank stare. We need to do a much better job ofutilizing our resources.  Sales professionals need to become better educators on product use, not just product features. 
For all patient lifts this is my mantra for you to live and lift by, "All hands working and every single lift counts." 
Stop handing down dangerous habits and use the tools we have with purpose and direction.

Request product info from top Stretchers and Stair Chairs companies
Thank You!