Fla. EMS transforms public bus into ambulance
The RAPTOR can respond to mass casualty incidents such as vehicle crashes, mass shootings or natural disasters
---
By EMS1 Staff
BRADENTON, Fla. — For a fraction of the cost of most mass casualty vehicles, the Manatee County EMS has taken a donated public bus and turned it into an ambulance that can treat more than 10 patients at a time. 
"The AmbuBus is a very popular concept in fire departments in the pre-hospital realm and we have been waiting to secure one for some time," Manatee County EMS District Chief Jason Evans told ABC Action News.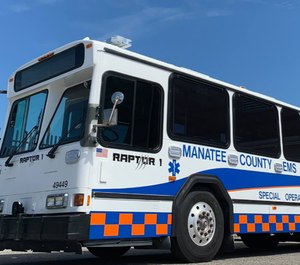 The RAPTOR can respond to mass casualty incidents such as vehicle crashes, mass shootings or natural disasters. 
RAPTOR stands for "Rapid Activation Patient Treatment or Rehab."
Manatee County EMS was able to create the ambubus at a cost of $32,000, which is far cheaper than most mass casualty vehicles. The county donated the public bus and the state health department donated some of the equipment. 
"We can load a large number of patients in here and treat them quickly or transport them to the hospital using this vehicle or having a secondary means of transport like a helicopter or another ambulance," said Evans.

Request product info from top EMS Specialty Vehicles companies
Thank You!