Austin EMS adds motorcycles for faster response
Two new BMW 1200-RT motorcycles have been added to the agency's special events division
---
AUSTIN, Texas — Austin-Travis County EMS (ATCEMS) is proud to introduce the latest additions to our emergency response fleet. 
Two new BMW 1200-RT motorcycles have been added to our Special Events division enabling us to provide excellent patient care at any time, any place. The addition of these two motorcycles increases the current fleet total from four to six bikes, helping us better serve the citizens and visitors to Austin and Travis County.
The Special Events division currently uses smaller, dual sport, BMW 650-GS motorcycles at public outdoor events such as SXSW, ACL and numerous sporting events in Austin and Travis County.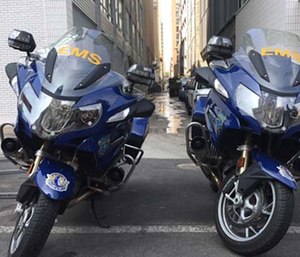 We will continue to use the 650's at smaller outdoor events, but the new BMW 1200-RT bikes are larger (full sized), water cooled and are equipped with a state-of-the-art braking system making them better built for street use.
The new BMW 1200-RT motorcycles have already been utilized this year in the Presidential motorcade, at the SXSW Music Festival and MotoGP at the Circuit of Americas.
The ATCEMS Motorcycle Medic program has been operational since 2009. The first three motorcycles were generously donated by local civic organizations, the fourth was provided through a grant.
The new bikes are our department's first motorcycle purchase; our plans include the possibility of these larger bikes being used for 911 response in the future.