Fla. EMS volunteers serving retirement community face their own age-related virus risk
At Sun City Center Emergency Squad, where the average age of volunteers is 72, crewmembers take precautions while aiding fellow seniors
---
Christopher O'Donnell
Tampa Bay Times, St. Petersburg, Fla.
SUN CITY CENTER, Fla. — With its siren and flashing lights clearing a path through midmorning traffic, the white ambulance takes just six minutes to reach the home in Kings Point, a large 55-and-over community.
"Emergency Squad, Emergency Squad," shouts Tom Canady, 76, as he raps on the front door.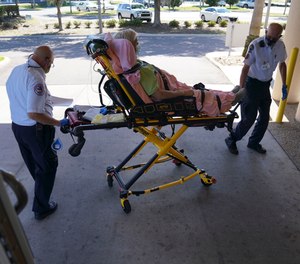 Inside is an 86-year-old man whose wife called 911 after he had a dizzy spell. But the ambulance crew's first concern is, does he have a fever or a cough? Could he have the coronavirus?
Their caution makes sense. All three crew members are over 65. Every home, every patient is a source of potential infection.
For 55 years, the Sun City Center Emergency Squad has been a point of pride for this sprawling retirement community of more than 20,000 in South Hillsborough. The only all-volunteer ambulance service in Florida, according to the group, it handles about 5,000 calls a year, providing basic medical care without asking for a penny from taxpayers.
And the service is free to residents, who can get to the emergency room without costly ambulance bills that run north of $800.
The squad means just as much to its 400 volunteers. Most are retirees who want to fill their days with something more meaningful than golf or canasta. Not only do they get to help others, they get a purpose. There's a uniform to clean and iron, a schedule to keep, a reason to keep minds and bodies active.
But in the midst of a pandemic, the stakes are higher for the volunteers, whose average age is 72.
Two ambulance crews were quarantined while patients they ferried to the hospital awaited coronavirus test results. Eighteen volunteers asked to go on hiatus, either because they had their own medical conditions or they feared they could bring the virus home to their spouses.
So far, Sun City's elderly population has largely been spared, with just 16 coronavirus cases. But as of Monday, 1,448 cases had been recorded across Hillsborough County.
The squad has done what it can to protect those who choose to carry on.
Squad 911 dispatchers screen calls and refer patients who have a travel history or flu-like symptoms to Hillsborough County Fire Rescue. Squad Chief Mike Bardell bought N95 cloth and had his son make masks using a 3D printer.
And protocol has changed for the emergency medical technician and two emergency medical responders who crew an ambulance. On arrival, the EMT goes into the home and checks the patient with a temperature gun. If it's not safe, the call is passed to the county, whose paramedics have full personal protective equipment, said Robin Watt, the squad's deputy chief of human resources.
So far, no volunteers have tested positive.
Ambulance driver Kent Marchuk, 67, opted to carry on, even though he cares for his 91-year-old father in their home in Largo.
Every time he returns from a shift, he takes off his shoes before entering the side door that opens to his garage. Then he removes his clothes and puts them in his washing machine before taking a shower.
A former boat repairer and hot-air balloon pilot, he has been with the squad for five years. On duty he wears a mask with the slogan: "If you can read this: your social distance is too close."
"That gratification you get when the 92-year-old patient looks up at you, and you've just transported her, and she just says, 'Thank you, thank you so much,'" Marchuk said. "You walk out feeling like a king, like you really helped somebody."
The other two members of his crew feel the same.
Canady was a district manager for General Electric until he retired. Helen Corradi, 67, typed court reports for Michigan's children's services department. They met when they were assigned to the same ambulance crew and married in August 2018.
They were given the option of standing down because of the pandemic, but they didn't.
"I don't have a fear of it," Corradi said.
Sun City Center had no Interstate, no ambulance service and no hospital when the squad was founded in 1964 by Ray Watson, an early community resident. U.S. 301 was still a dirt road and a trip to Tampa General Hospital could take 90 minutes. Patients were transported in a station wagon or a hearse.
Fifty-five years later, the squad is more professional, although no one takes a paycheck. They are licensed by the state to operate a 24-hour service out of their station on Ray Watson Drive. Most patients have only a short trip to South Bay Hospital, which opened in 1982.
The squad has four ambulances. Crew members must pass CPR and basic first-aid training, while the EMTs complete four months of medical training.
Paramedics with the county fire service handle more advanced emergencies, like heart attacks or strokes. But there is no shortage of basic medical calls in a community where snowbirds swell the population to nearly 30,000 in the winter, and the median age is 71. Almost half of the squad's calls are for falls, an all-too-frequent risk for older people.
Watt estimates that taking those calls off the county's load saves it about $1 million per year. The county appreciates the help.
"The professionalism they demonstrate is without question," said Hillsborough County Fire Rescue Chief Dennis Jones in an email. "The gap they fill in south Hillsborough County provides tremendous relief to our paramedic field units operating in this area."
The squad also provides about 1,000 "wheelchair runs" a year, driving residents to medical appointments in a specially outfitted minibus.
Even without a payroll, the squad costs about $450,000 a year to run. The money comes mainly from donations from the community. Some residents are so grateful, they bequeath their estates to the squad.
Ambulance crews spend most of their downtime between calls in the ready-room. Lunch usually is cooked by another volunteer. On a recent Monday, it was ribs and baked beans. Afterward, Marchuk and Canady napped while Solid Gold Oldies played on TV.
Squad leaders are well-aware that they are the old taking care of the older. Invariably, volunteers face their own medical ordeals.
Barry McKee, 71, was out on a call the day after Christmas when he felt a burning pain in his chest. When he got back to the station, he felt nauseated and was sweating.
He told the other on-duty EMTs, who called a county ambulance. Within 30 minutes, he was having emergency surgery to clear a clogged artery.
He was back on duty a month later.
A former police officer and community college professor, McKee joined the squad seven years ago. His wife, Marcie McKee, serves on the same crew.
His age, heart condition and diabetes mean he is vulnerable to the coronavirus. But it's worth the risk, he said, even for no pay.
"At 3 o'clock in the morning, when that little old lady looks at you like, 'Thank God someone is here,' that's the paycheck," he said.
The Sun City Center Emergency Squad is seeking donations and volunteers. Log onto sccems.com/ or contact Chris McCann at (813) 434-4184.
This story is part of a collaboration with FRONTLINE, the PBS series, through its Local Journalism Initiative, which is funded by the John S. and James L. Knight Foundation and the Corporation for Public Broadcasting.
———
©2020 the Tampa Bay Times (St. Petersburg, Fla.)
McClatchy-Tribune News Service