PRESS RELEASE
Rescue Essentials Introduces the Improved Slishman Traction Splint
---
Rescue Essentials released the latest version of the award winning Slishman Traction Splint (STS) today. After review of input from AMEDD at Fort Sam Houston and testing done by the United States Army at Fort Detrick on the military version, Rescue Essentials is releasing the EMS version of the STS with thumb screws for fail‐safe, quick device adjustment, as recommended. The latest version of the STS also boasts a red toggle at the end of the longer traction cord for better grip. Improved labeling and superior red color coding enable even quicker patient femur fracture stabilization.

The STS embodies significant improvements to traction splinting:

• It is the only femur traction device that does not extend past the end of the foot.

• The STS's sleek, compact design requires no assembly.

• The STS is the only traction device that is not contraindicated for use for lower leg amputations.

• The STS can be applied bilaterally for both adult and pediatric femur fractures.

The STS is endorsed by the National Ski Patrol and the National Tactical Officer's Association. It was designated by the Journal of Emergency Medical Services as a "Hot Product" in 2012. The STS also won a 2012 Top EMS Innovation Award at the EMS World Expo.
The Slishman Traction Splint weighs 1 pound 5 ounces or 600 grams. The carrying case dimensions are 22" X 3" X 3" or 56cm x 7.6cm x 7.6cm. MSRP $180.
About Rescue Essentials:
Rescue Essentials is a manufacturer and distributor of emergency medical products from first aid basics to advanced trauma treatments. Rescue Essentials offers top quality products at extremely affordable prices, delivered in a timely manner with flat rate $4.99 shipping (to USA addresses) regardless of the size of the order. With a focus on preventable death in the tactical emergency casualty care, Rescue Essentials has worked with thousands of different customers on custom solutions for their medical kit needs. Their unique approach has made Rescue Essentials a favorite of EMS personnel, law enforcement agencies, elite security forces and tactical medics. For more information on Rescue Essentials and products visit www.rescue-essentials.com or call (719) 539-4843.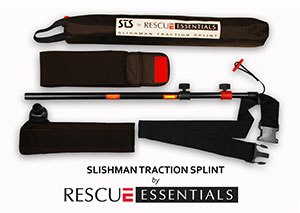 Request more info from Rescue Essentials
Thank You!