Pulsara unveiling major new features of its platform at EMS World 2018 in Nashville
---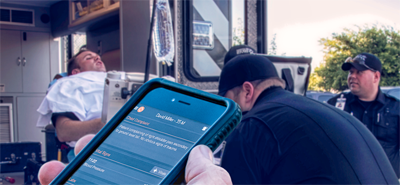 BOZEMAN, Mont. — Pulsara will be unveiling critical new elements of its technology during the EMS World Expo conference this week in Nashville. Pulsara provides a real-time communication network in hospitals and across entities and regions—driving quality improvement and better patient coordination. The technology solution is being used by regional healthcare systems across the U.S. and Australia.
"In my many years as President & CEO of Health & Hospital systems, one constant focus has been on helping move clinical providers and support teams out of silos and on the same patient care page," said Dr. Bill Atkinson, former President & CEO of WakeMed Health & Hospitals, Raleigh, NC. "I've seen firsthand how Pulsara is making a major clinical difference in team and patient care coordination across pre-hospital EMS settings, hospitals and throughout regional healthcare systems. Pulsara's advancements in seamless communication technology and real-time clinical coordination are positively impacting care, timely patient access to critical services, quality and clinical outcomes."
In Nashville this week, Pulsara is demonstrating new advancements, integrations, and features, including:
Plus, a special, big announcement that will be unveiled to EMS World attendees first!
During her time as stroke program manager at a large Washington health center, Louise Jenkins implemented Pulsara and saw dramatic improvement in the system's stroke treatment times, as well as decreases in STEMI false cath lab activations. "It was fantastic to see such improvement in our door-to-needle and door-topuncture times. In fact, all metrics improved immediately and then sustained or improved over time," Jenkins said. "But just as important, the coordination you're able to achieve among participating hospitals and EMS services is something we never had before."
Pulsara founder and CEO James Woodson, MD, will be meeting with hospital, EMS agencies and other stakeholder organizations during the EMS World Expo, Oct. 30-Nov. 2 at the Nashville Music City Center. Meetings and interviews can be coordinated by filling out the form on https://www.pulsara.com/2018-emsworld-expo.
"The future of healthcare communications is connected teams," said Dr. Woodson, who leads Pulsara from their headquarters in Bozeman, MT. "These partnerships and integrations are absolutely going to drive the flow of critical data and information, make the workflow for practitioners better, and help achieve our overarching goal of improving patient care and outcomes."
About Pulsara
Pulsara provides a real-time communication network across an entire region. The Pulsara platform, built on the power of mobile technology, unites the right clinicians at the right time for the right patient – providing transparency and streamlined communication. Simply CREATE a dedicated patient channel. BUILD the team. And, COMMUNICATE using audio, video, instant messaging, data, images, and key benchmarks. Studies report an average decreased treatment time of nearly 30% when using Pulsara. Pulsara is the evidence-based standard of care. For more information, visit https://www.pulsara.com.

Request more info from Pulsara
Thank You!