PRESS RELEASE
Technimount System launches air and ground transport mounting systems for pumps
---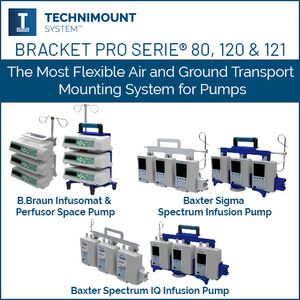 QUEBEC CITY, Quebec — Technimount System, manufacturer of versatile mounting solutions for portable medical devices, announced today the launch of its Bracket Pro Serie GR (Ground) and FL (Flight) product line for infusion and perfusion pumps during air and ground transport for Emergency Medical Services (EMS) and Critical Care Transport (CCT).
The Bracket Pro Serie (BP) product line includes mounting systems for pumps such as: Infusomat Pump and Perfusor Space Pump from *B.Braun (BP 80-GR and BP 80-FL), Sigma Spectrum Infusion System (BP 120-GR and BP 120-FL) and Spectrum IQ Infusion Pump from *Baxter (BP-121 GR and BP-121 FL). As the most flexible solutions available on the market, these new mounting systems are available in options for ground and flight emergency services.
Developed in response to the critical need for mounting systems designed specifically for EMS environments, these mounting solutions make it safer and easier to transport multiple pumps in air and ground ambulances, following the patient during care. Technimount's highly flexible solutions enable EMS Providers to install and transfer their medical devices between stretchers, counters, and walls.
Capable of safely housing multiple pumps, the Bracket Pro Serie 80, 120 and 121 secure the pumps individually within the bracket, designed with its own safety locking mechanism. Each pump can be individually installed or removed from the bracket when needed thanks to its proprietary Quick Release Mechanisms. These mounting systems include a removeable IV Pole that can be used during temporary transfer from bed to stretcher and stored on the bracket when not in use.
"The introduction of these mounting systems to our Bracket Pro Serie product line is built upon our expertise from supporting hundreds of EMS organizations with their medical device management needs over the past 8 years," explains Carl Bouchard, Founder and CEO of Technimount System. "The Bracket Pro Serie 80, 120 and 121 are designed to support EMS Providers during ground and air patient transport with highly flexible and safe solutions".
These latest additions to Technimount System's Bracket Pro Serie product line are designed to comply with SAE J3043, FAA-FAR-DOT 27.561 and DOT 27.562, ensuring that the medical devices are secured during transport to avoid possible injuries to patients and crew as well as reduces risks of damage to the medical equipment.
*Infusomat Pump and Perfusor Space Pump from B.Braun and Sigma Spectrum Infusion System and Spectrum IQ Infusion Pump from Baxter are trademarks of their respective owners. Technimount System does not have a commercial relationship with B.Braun or Baxter.
About Technimount Systems
Technimount System designs and develops mounting solutions that provide first responders and healthcare professionals with a complete system for portable medical device management during patient transport. Technimount's unparalleled universal mounting system can fit multiple brands, models, and applications of portable medical equipment in ambulances, on stretchers and cots in hospitals, EMS, and military environments.

Request more info from Technimount E.M.S.
Thank You!