The Siren Act and EMS grants for emergency medical equipment
AFG, Highway Safety Grant Programs and the Firehouse Subs Public Safety Foundation can help fund AEDs and EMS equipment
---
By the EMSGrantsHelp Grant Expert Team
The Siren Act, passed in December 2018 by Congress, focuses on serving rural communities that often experience issues such as drug overdose, large populations of aging citizens and insufficient budgets. The program is funded at $20 million per year through FY 2023, with individual awards capped at $200,000 and a 10% match requirement.
The award covers a variety of programs, such as training and educating emergency medical services personnel, obtaining and maintaining necessary licensing and certifications, and purchasing emergency medical equipment.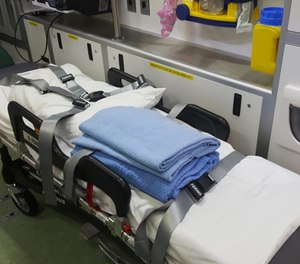 The Siren Act also supports the recruitment and retention of personnel, both paid and volunteer, to serve communities more efficiently, and emphasizes the importance of establishing innovative methods to advance and educate emergency healthcare providers through technology-enhanced methods.
This imperative funding source will offer EMS providers the ability to purchase much needed equipment and fund training to fulfill their mission.
As we wait for this program to open, it is important to remember that the Siren Act is one of many funding opportunities offered to EMS providers. Below is a list of potential funders in 2019:
Assistance to Firefighters Grant. This steady funding source is typically a go-to opportunity for many fire and EMS departments across the nation. From automated external defibrillators, to power lift systems, this grant program assists departments in need of life-saving equipment.
Tip: Be sure to review the notice of funding opportunity for eligible equipment items.
Highway Safety Grant Programs. Highway Safety Programs are federal pass-through funding resources administered by the state. This program typically aims to address the alarming rise of vehicle fatalities by improving driver behavior. Most address alcohol/impaired driving, pedestrian and bicycle safety, motorcycle safety, occupant protection and other highway safety programs. EMS providers can apply for equipment needs, such as power lift systems.
Tip: Applicants must address the program's deliverables. Topic areas include: Young Adult Traffic Safety; Older Drivers and Passengers; and Pedestrian Safety.
Firehouse Subs Public Safety Foundation. Many are not aware that EMS providers fall under the category as an eligible applicant.  Since their mission is to, "impact the lifesaving capabilities, and the lives of local heroes and their communities," one aim of the program is to provide lifesaving equipment to first responders. This includes items such as AEDs and automated chest compression systems. 
Tip: This program will only fund up to $25,000, and for 2019, all four grant cycles will open.
As your department prepares for all 2019 grant cycles, keep these tips in mind.
First, when preparing to apply for funding, it is necessary to assess the needs of the community or organization, whole also considering how the requested funding will sufficiently cover the issues the community or organization needs resolved.
Second, evaluating the eligibility requirements of a funding opportunity will provide clarity regarding which projects or equipment are acceptable through the funding available.
Additionally, collected data is an outstanding part of a proposal. Data is often an accurate depiction of the community and will help the audience, who will be reviewing a grant proposal to better understand needs for the requested funding. Along with data, other valuable information also includes any prior successes or failures that the department has faced and how funding contributed to those successes or could potentially correct the failures. Information that has been collected and updated will ideally provide for a more seamless transition into drafting a successful grant proposal, and ultimately, a funded project that will meet the needs of a deserving department, agency and community.

Request product info from top EMS Medical Equipment companies
Thank You!