New device offers contamination control for medical devices
STAL can help protect medics while they provide protection for the patient's airway
---
By Jamie Thompson
EMS1 Senior Editor
A unique device that supports, isolates, shields and secures medical instruments from contaminated surfaces was unveiled to pre-hospital providers for the first time at EMS Today in Baltimore.
The STAL Shield and Stand is designed to be used with a Yankauer suction, scalpels and irrigation bottles or syringes.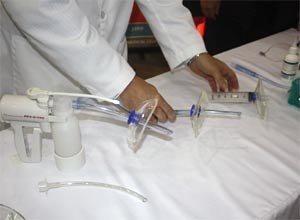 Prodaptive Medical Innovations call it an advance in contamination and infection control, and it was first conceived for use as a shield for the Yankauer.
However, it quickly became apparent it can be used in a number of applications.
"This is the first time we've really exposed it to the buying market within the EMS system," said Al Wickheim, a Canada-based paramedic and operations executive at Prodaptive Medical Innovations.
"With the changing face of infectious diseases we are seeing — SARS, H1N1, etc. — this goes really to the heart of how they can be spread and can help to reduce infection."
When used with a Yankauer, Wickheim said, the STAL can:
Effectively shield and protect the medic from oral or other splashes, coughs or spurts related to the use of the Yankauer suction catheter
Support and isolate the Yankauer's tip from its resting surface to reduce cross contamination
Elevates the entire length of the Yankauer off resting surfaces for easy pick-up
Provide traction and security to the Yankauer to greatly reduce its tendency to drag to floor
In addition, when used with a scalpel, Wickheim said it provides crystal clear shielding when lancing abscesses in I & D procedures, isolates the blade from its resting surface to reduce contamination, and supports the scalpel in an easy-to-pick-up position.
Finally, the device can shield the user from back splash and sprayed contamination during wound irrigation procedures with a long-nosed syringe or saline irrigation bottle and allows for unfettered visualization during the irrigation process.
The STAL was the brainchild of Wickheim and Dr. Stephen Wheeler, president at Prodaptive Medical Innovations.
"We have been using it for about a year; me within the pre-hospital environment and Stephen within ER," Wickheim said.
"Our colleagues have all told it really does what it says it does. It's about helping to provide improved protection for the practitioner in that respect, but there's also significant benefit to the patient as well when it's used as a stand to keep the Yankauer or other instrument off the ground."
From both a patient care and litigation standpoint, EMS providers should be doing everything they possibly can to reduce the possibility of doing harm to the patient, Wickheim said.
"With the STAL, you help to reduce cross contamination and contamination of medical equipment around you," he said.
"It's incumbent upon the practitioner to reduce contamination to both themselves and the patient, and this is an option that can help you to do that."
Prodaptive Medical Innovations Ltd. aims to provide simple innovative solutions for health care workers. For more details, visit www.prodaptivemedical.com.

Request product info from top EMS Airway Management companies
Thank You!