Military tech becomes integrated critical care system
Collaborative software between Impact Instrumentation, Bio-Nexus shows great promise in monitoring critical-care equipment without interrupting patient care
---
At the EMS State of the Sciences Conferences held in Dallas, Texas, a new technology on display caught my eye. It is a joint collaboration between Impact Instrumentation and Bio-Nexus, supported by a grant from the Office of Naval Research, to develop an integrated critical care system (ICCS). This partnership has stunning potential and means new applications in the civilian sector are coming soon.
Bio-Nexus is a nearly four-year-old software company with the mission of designing a mobile workflow engine, dubbed the E.L.A.D. System, to securely transfer mission-critical data in a mobile environment. The company has integrated their sophisticated software with a heads-up display and a headset as well as a portable wireless computer.
The initial focus of the E.L.A.D. System was on military use. The system was designed to save wounded soldiers on the battlefield by guiding a paramedic's actions in emergency conditions, proving situational pictures for paramedical staff, reporting the status of the injured and more.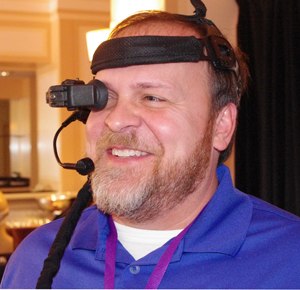 What makes it innovating is that the ICCS software now supports applications run over the E.L.A.D. ICCS provides physiologic monitoring and life support of critically ill or injured patients using an interface software that monitors the patient and controls devices in the field. It also provides real-time guidance on what type of actions need to be taken based on clinical practice guidelines.
Imagine being able to control and monitor critical-care equipment without interrupting patient care. The Bio-Nexus E.L.A.D system can do just that.
This is not a fancy Google Glass. This is a U.S.-based company building the military-grade hardware and medical software of tomorrow — a company that has created durable, functional medical devices for at least three decades.
The system has speech recognition for hands-free capabilities as well as interactive menus on the display. This facilitates adherence to protocols and rapid documentation. The system also offers hands-free voice recognition algorithms and displays. It works with vital signs monitors, IV Pumps and Impact's 731 Series Ventilators (AEV® and EMV+®).
In the field, the system will let a paramedic monitor and control medical devices while documenting every change and treatment. This was demonstrated at the conference where the company showed how fast and easy it was to change ventilator settings while monitoring critical parameters and documenting patient care.
Technologies like those from ICCS and Impact also create a road to widespread adoption of electronic medical record systems as all information can be shared in real time or downloaded for later access.  At the same time, the ICCS software provides secure communications at the bedside and remotely.
ICCS technology also meets commercial and military medical transport standards and facilitates rapid workflow processing in the field.
The partnership will provide an end-to-end digital medical platform and create a pathway to a full EMR. More importantly, it will streamline patient care.