NASA helps develop system to better decontaminate ambulances
The NASA Glenn Research Center is collaborating with an emergency products company to develop an efficient fogging system
---
Sabrina Eaton
Advance Ohio Media, Cleveland
WASHINGTON — Cleveland's NASA Glenn Research Center is collaborating with a Kent-based company called Emergency Products + Research (EP+R) to develop a fogging system that can be used to decontaminate rooms and ambulances for coronavirus.
National Aeronautics and Space Administration engineers who specialize in aerosol physics are working through a regional economic development program to revamp an existing product sold by the company for use fighting the COVID-19 virus. EP+R's small, portable AMBUStat device uses a mist of water, peracetic acid and hydrogen peroxide solution to decontaminate spaces like ambulances and police cars in less than an hour.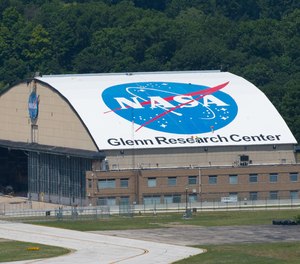 NASA Administrator Jim Bridenstine said the technology was originally developed to sterilize robots that were sent to Mars to ensure "there's not a microbe on the robot because we don't want to accidentally put a microbe on Mars because we want to make sure anything we discover on Mars is something that was already there."
In a conference call with reporters, NASA Glenn research aerospace engineer Marit Meyer said the existing product works on pre-hospital environments, after they are cleaned and wiped down, by depositing sterilant on surfaces. The new product that's under design aims to also kill pathogens like coronavirus that hitch rides on particles that float in the air.
"If you were able to disperse the sterilant and have the right sized droplets in your fog, then you could kill these airborne pathogens," said Meyer. "Another objective is to keep the cost really low so they could make the technology available to underserved communities and entities, such as school districts, that can't afford to spend a lot of money on new technologies to get up and running."
She said NASA Glenn is contributing its expertise and lab testing capability to help EP+R understand the droplet size distribution of their new product, and how it disperses the liquid sterilant into spaces such as the crevices in a police car, and larger ones like classrooms or dining areas. Another goal is to minimize the amount of sterilant the device uses to reduce costs without sacrificing effectiveness.
EP+R vice president Jason Thompson said the company's fogging system was originally introduced to control ebolaviruses. When COVID-19 emerged as a threat, the company faced "an incredible backorder situation" even as it received field reports that the new use for its system was pushing its limits.
"Only a couple of weeks ago, this forced us to the whiteboard with a goal of expediting the development and introduction of a new system that takes advantage of the knowledge gained through our relationship with NASA," said a statement from Thompson. "After identifying a very capable strategic manufacturing partner, we set out to get it done. We are extremely happy to inform the world that we have fast-tracked that system and, through our agreement with NASA, we will rapidly optimize the system's deployment of the cold sterilant for use against SARS-CoV-2 and make it available to the public as quickly as possible."
He said that to to eliminate confusion, the original system will be marketed as AMBUstat G1 and the new system will be marketed as AMBUstat G2.
"We are very grateful for all of the support that NASA has provided and are looking forward to the agency's additional support with our efforts to control the transmission of COVID-19 through inactivation of SARS-CoV-2," said Thompson.
Bridenstine highlighted the work done by NASA Glenn during an online show-and-tell session with reporters on Thursday, where he discussed several National Aeronautics and Space Administration research projects aimed at fighting the global pandemic. He said the agency put out an internal call for ideas on how it could help the nation during the crisis and got more 250 suggestions in just two weeks.
"NASA's strength has always been our ability and passion – collective and individual – for solving problems," said a statement from Bridenstine. "All the work being done shows how NASA is uniquely equipped to aid in the federal response to coronavirus by leveraging the ingenuity of our workforce, mobilizing investments made in the U.S. space agency to combat this disease, and working with public and private partnerships to maximize results."
Other projects he discussed include a new high-pressure ventilator tailored specifically to treat COVID-19 patients developed by engineers at NASA's Jet Propulsion Laboratory in California, and an oxygen helmet to treat COVID-19 patients who need less oxygen than a ventilator provides, which NASA's Armstrong Flight Research Center in California helped to develop.
Bridenstine displayed the devices for President Donald Trump during a Friday meeting at the White House. After Bridenstine explained how AMBUStat's device fogs rooms, leaving every surface in the room sterilized, Trump asked whether people could breathe it in. Bridenstine clarified the cleansing occurs without people in the room.
"You just bring it in a room, set it down, let it fog and then every surface ends up being clean and and people can go back to work knowing that their workspace is clean and it doesn't leave a film on any of the surfaces," said Bridenstine. "You don't have to wipe down the surface."
Thompson visited the White House on Friday to discuss the product, but was not among the group who met with Trump. He said the number of guests able to meet with Trump was limited "due to essential COVID-19 social distancing practices."
"Although disappointing, I am, obviously, very supportive of restrictive practices to control the disease's transmission," Thompson said in an email.
Meyer said she's looking forward to getting into the lab to experiment with the new AMBUStat device, with a skeleton crew of researchers.
"Of course, there will be a new way of doing experiments where we have to socially distance and follow all the other protocols for not transferring germs to each other," she said.
———
©2020 Advance Ohio Media, Cleveland
McClatchy-Tribune News Service

Request product info from top EMS Infection Control companies
Thank You!