Minn. EMS agencies asked to maintain normal operations during emergency
The state's peacetime emergency declaration automatically triggers exceptions to staffing, driver and equipment requirements
---
By Laura French
MINNEAPOLIS — Minnesota leaders have extended the state's peacetime emergency declaration for 30 days, leading the state's Emergency Medical Services Regulatory Board (EMSRB) to urge providers to maintain normal operations whenever possible.
The board initially issued a 5-day emergency suspension of ambulance services on March 13, which will now run through the 30 days from March 16, when the state's Executive Council voted to extend the emergency.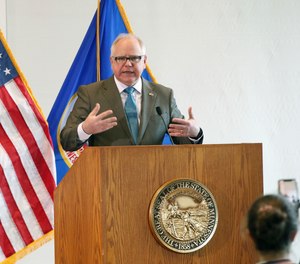 The suspension means some requirements for EMS in the state have been lifted, including requirements for items and equipment to be carried on an ambulance, responder certification and emergency driver qualifications.
Services may be permitted to use civilian drivers to drive ambulances, may use expired items, and are not required to run 24 hours a day, according to the Minnesota state code related to peacetime emergencies.
The EMSRB outlined the changes in a two-page document but emphasized that operations should only be modified when necessary.
"The mission of the EMSRB is to protect the public's health and safety through regulation and support of the EMS system," the EMSRB said in a statement. "During this declared emergency, normal operations should be maintained whenever possible."
Read more: 
Minnesota issues '5-day Emergency Suspension of Ambulance Services' memo
CDC updates EMS, 911 guidance for COVID-19
NAEMT has compiled list of resources for COVID-19 response
#StayHomeforUs: EMS providers use social media campaign to promote COVID-19 safety

Request product info from top EMS Infection Control companies
Thank You!