Health authorities: 1 confirmed Ebola case in Liberia
The new case was confirmed two months after the country was declared Ebola-free for a second time
---
By Jonathan Paye-Layleh
Associated Press
MONROVIA, Liberia — Health officials in Liberia said Friday they had confirmed a new case of the deadly Ebola disease, more than two months after the West African nation was declared Ebola-free for a second time.
It is a setback for Liberia, one of the three countries hit hardest by the worst Ebola outbreak in history. The country has recorded more than 10,600 cases and more than 4,800 deaths, according to the World Health Organization. Liberia was first declared Ebola-free on May 9, but new cases emerged in June resulting in two deaths. WHO declared the country Ebola-free again on Sept. 3.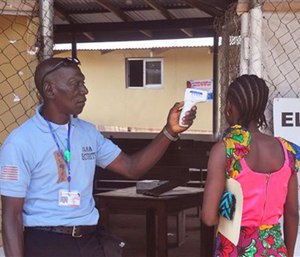 The new case is a 10-year-old boy who lives in the eastern Paynesville district of Monrovia, said Dr. Francis Kateh, chief medical officer and acting head of Liberia's Ebola Case Management System. Kateh said the boy was being taken to a treatment center outside Monrovia.
"Yes, yes, you can say confirmed," he told The Associated Press when asked if the case had been confirmed to be Ebola.
He said officials were still trying to find out how the boy contracted the disease.
On Thursday night, before the new case was reported, President Ellen Johnson Sirleaf delivered a speech praising "the resilience" of Liberians in overcoming Ebola.
"Without the individual and collective support and cooperation of all our citizens and residents, it would have been difficult to defeat this scourge," Sirleaf said.
The new case in Liberia was announced just days after Guinea, the country where the epidemic started, said it had no more Ebola cases and was beginning a 42-day countdown toward being declared free of Ebola transmission. Guinea had been the last country with any cases, as Sierra Leone was declared Ebola-free on Nov. 7.