Convention center converted to rig decontamination station during pandemic
The Century II facility in Wichita, Kan. is offering drive-thru decontamination for ambulances and other emergency vehicles using an electrostatic spray
---
Dion Lefler
The Wichita Eagle
WICHITA, Kan. — Wichita's Century II event center has been commandeered for the fight against the coronavirus COVID-19 pandemic, city officials confirmed Wednesday.
The facility, ordinarily the city's Convention and Performing Arts Center, has been converted to an impromptu drive-through decontamination station for ambulances and other emergency vehicles, said Mayor Brandon Whipple and Assistant City Manager Donte Martin.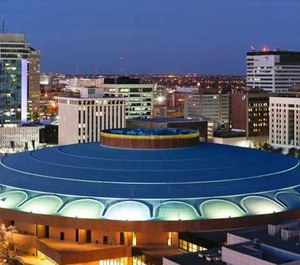 "It's being used right now by our first responders," Whipple said. "They're able to drive into the basement for decontamination and then go on to their next call."
He said he learned it was being used for that purpose in a meeting Wednesday with city fire Chief Tammy Snow.
"I've already given the OK for Century II and the old public library (to be used) however they can be the most useful," he said.
He said he's leaving it up to county and city public-safety staff to determine what the best uses might be.
Some of the other ideas under consideration include possibly sheltering homeless people in the former central library and using the circular drive at Century II as a drive-through coronavirus testing center, if the county can acquire enough test kits, said Commissioner Michael O'Donnell.
The Century II's regular tenants, including Music Theater Wichita, the Wichita Symphony and the International Alliance of Theatrical Stage Employees, were told in an e-mail Tuesday afternoon that as of midnight, they wouldn't have regular access to the building for the next 30 days.
Martin said that would have happened anyway to comply with the stay-at-home order issued by Sedgwick County health officer Garold Minns on Tuesday, which mandates a shutdown of non-essential businesses.
At the beginning of the coronavirus threat, the city bought electrostatic spray decontamination equipment for Eisenhower Airport and Century II to aid in disinfecting the buildings where large groups of people gather.
Events at Century II have all been canceled or postponed during the emergency and the county asked if it could borrow the electrostatic equipment to decontaminate ambulances, Martin said.
Rather than relocating the equipment, it made more sense to simply stage the process at the Century II, he said.
Two of the building's tenants said they weren't particularly bothered by being displaced under the circumstances.
Ben Juhnke, business agent for the stagehands union, said he figured something was in the works when he accidentally walked in on a meeting of police and firefighters who were checking out the building.
"It's the largest venue in the city with the largest amount of open space, so it makes perfect sense to use it," Juhnke said.
He said it's not like the union office has that much to do right now anyway, since the 600 workers it schedules are idled by the production shutdowns.
Wayne Bryan, producing artistic director for Music Theatre Wichita, said the nine-member staff has been pretty much working at home since the coronavirus outbreak began, although they generally rotated one person at a time through the office to keep a presence there.
Music Theatre's rehearsal room and prop, costume and electrical shops are in the Century II basement.
Bryan said Music Theatre is still planning to put on a summer season of shows if the virus threat is abated by then.
He said he's not sure when the workers can return, or what measures will be needed to make sure those areas are safely usable when they do.
"I'm sure they (city government officials) have a plan for that," he said. For now, "we need to do everything we can to keep our first responders safe . . . those people are doing heroic work in our community."
———
©2020 The Wichita Eagle (Wichita, Kan.)
McClatchy-Tribune News Service

Request product info from top EMS Infection Control companies
Thank You!