Guardian Angel debuts Elite Series personal safety lighting devices for first responders
The new design is to increase the visibility of first responders as they attend to roadside incidents
---

By EMS1 Staff
MILWAUKEE — A new device is attempting to shed a light on a serious threat to personal safety for first responders.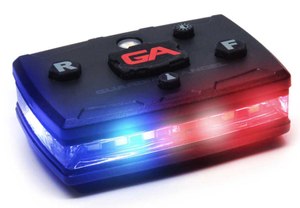 Wearable safety light manufacturer Guardian Angel is releasing its new Elite Series this week, designed to increase the visibility of first responders as they attend to roadside incidents.
"We seek to keep EMS, firefighters and police officers safe," Chadwick Keller, Guardian Angel CEO, said in a press release. "To combat these devastating struck-by trends, we redesigned previous devices to create the Elite Series model. It's engineered based on the feedback we received from the 20,000 first responders who use our devices in the field every day."
Since 2008, 32 firefighters and EMS personnel have been struck and killed while answering calls to victims on or near roadways. The new Elite Series will feature:
A polycarbonate exterior.
Waterproof casing.
360-degree light aspect ratio, providing over three miles of visibility.
Static and flashing modes.
Universal mounting options.
One-touch emergency light activation.
The company plans to unveil the Elite Series at the 2018 EMS World Expo. Visit the Guardian Angel website for more information.