How technology is transforming EMS
Usability of electronic patient care reports, mobile technology applications and model for improvement discussed at EMS World Expo
---
NEW ORLEANS — The role of technology to improve EMS operations was the focus of an expert panel at the EMS World Expo. Alexander Garza, MD opened the session by discussing principles of software usability and an NAEMT-funded study to look at the usability of electronic patient care records.  
James Woodson, MD, an emergency physician, discussed with attendees how common consumer technology, especially the smartphone, can improve and change health care to better solve real problems. Other industries have far surpassed health care in their usage of current technology while physicians are still faxing treatment orders, receiving radio reports from EMS and expecting EMS to leave a paper report at the time of patient transfer of care.
Rob Lawrence, the final presenter, discussed operationalizing information to create results and improve performance using the cardinal points of PDSA — plan, do, study, act. Lawrence shared several examples of specific operational improvements made by the Richmond Ambulance Authority.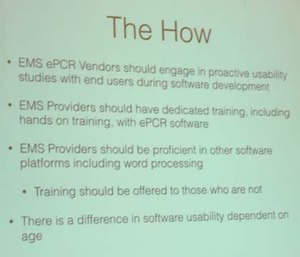 Memorable quotes
Here are memorable quotes from the panelists.
"Users and systems have to improve to capture really good data to show value. Garbage in, garbage out."
— Alexander Garza making the case for EMS data capture
"Interactive training is absolutely necessary if you want people use their ePCR software effectively."
— Alexander Garza discussing the importance of training for ePCR usability
"Eighty percent of medical errors are the result of miscommunication during transitions in care."
— James Woodson discussing the numerous communication pathways in a system of care
"Plan-do-study-act with small cycle testing is a model for innovation. You will learn far more than you ever thought you would."
— Rob Lawrence describing how to make performance improvements.
ePCR usability, mobile technology and creating performance improvements
Here are brief summaries of the presentations, which were delivered in a lightning round format.
Usable software for EMS providers
Garza defined usability with a specific focus on the need for computer software to have effectiveness, efficiency and satisfaction. Garza's ePCR usability study launched in December 2015 and asked respondents about their demographics, computer usage experience, self-identified expertise, training, exposure to ePCRs and specific ePCR use. Nineteen questions specifically asked about software usability.
The results showed interactive training, proficiency with other types of software and social media familiarity as predictors for EMS providers to find ePCR software usable. Garza called on ePCR vendors to engage in usability studies during software development.
Mobile technology
EMS providers carry a mobile device nearly everywhere they go on duty. Woodson reminded the audience that a smartphone is a powerful tool that needs to be better harnessed to improve health care. EMS leaders and vendors need to think differently about how we can better use mobile technology. Most importantly, leaders need to ask 'why' we are not using the smartphones differently and use that conversation as a launching point to improve processes to deliver better patient care and improve value.
Plan-do-study-act
Lawrence described the usage of the plan-do-study-act model for several performance improvement projects involving telemedicine and ambulances equipped with solar panels. Small cycle testing was the key for Lawrence's organization to make incremental improvements that resulted in significant gains in patient care, fuel efficiency and staff morale.
Learn more: