3 important considerations for simulation debriefing
To get the most out of time intensive and expensive high-fidelity simulation training paramedic educators need to consider complexity, uniformity and student facilitation
---
By Rafi Uddin
For the past two decades, high fidelity simulation has become a mainstay of advanced prehospital education. In-depth simulations utilizing expensive automated mannequins in replicated patient environments are quickly becoming the norm in training institutions worldwide, yet one of the most crucial elements of the simulation process, debriefing, is often glazed over.[1] 
Debriefing is an important tool for educators, as it allows for the consolidation of knowledge and the reiteration of key learning outcomes. Critical thinking and reflection are enhanced through debriefing, both of which are integral to the learning process. There are three important factors educators should consider when conducting simulation debriefs.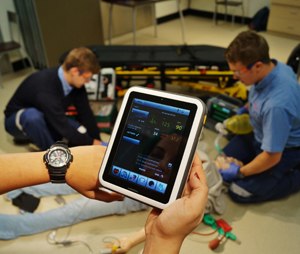 1. Debrief time and complexity
It is generally accepted by both students and educators that current debriefing time allocations are too short. Without enough time, critical points within the simulation are glossed over, leading to a compromise in the learning process. 
Although no golden formula can be derived for the perfect simulation debriefing time, debriefs should go for at least half the simulation time. It also follows that the more complex the simulation, the more time should be allocated towards the debrief. This is especially true if the simulation features patients with comorbid pathologies, multiple clinicians or complex interventions.[2] Logistical considerations will always play into time allocation, however educators should be putting more consideration into debriefing times from the outset.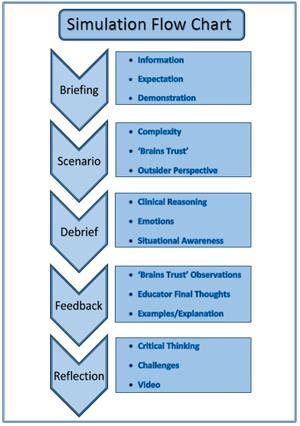 The 'Simulation Flowchart,' developed by students at Charles Sturt University, provides a solid basis from which educators can develop their own uniform simulation frameworks.[4]
2. Uniformity
A structured approach, implemented at the organizational and institutional level, should be taken towards not only debriefing, but the simulation process as a whole. Without an operational structure, dissemination of learning outcomes can be impeded, negating any educational benefit derived from the simulation in the first place. 
Before the simulation is considered, students must have a theoretical grounding in the principles being simulated. The educator must then outline their expectations and resources available. Will the students be transporting the patient? Will they have a backup crew available? To what level will the students be expected to treat to? 
The complexity of the simulation must then be adjusted according to the students' skill level and the content covered. The more complex the simulation, the more material there will be available for debrief, however educators must be aware of cognitive overload.[3]
Educators should also consider involving other students in the class as a possible "brains trust." The other students can be called upon at any time to provide direction if the treating students becomes stuck. As well as fostering student involvement, this strategy will also minimize stalling and maintain continuity within the simulation. 
Debriefs should then follow a somewhat structured approach. The treating students should first be allowed to walk through the simulation from their perspective. Only after the treating students have given their clinical reasoning should further feedback and discussion come from the educators and observing students.
3. Student facilitation 
Student facilitation and thus clinical reasoning should be fostered during the debriefing process. Students should be allowed to talk through their own personal experience of the simulation to both justify their decision making and to verbalize emotions and pressures felt during the simulation. 
Clinical reasoning also allows the educator to understand why certain decisions were made by students, paving the way for further in-depth discussion. This acute form of reflection also assists students in critical thinking, helping students to consider what they would change if faced with the same simulation again.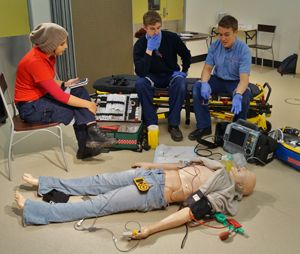 Student facilitating a debrief.
Student facilitation is not a process that happens overnight. Educators will have to work in fostering an environment where students feel comfortable in facilitating and leading their own debriefs. The goal of the debrief is to cultivate an environment which allows for free-flowing discussion and dialogue. Asking open ended prompting questions is one of the best ways in which this can be achieved.  
References
Maran, N. J., and R. J. Glavin. "Low‐to high‐fidelity simulation–a continuum of medical   education?." Medical education 37.s1 (2003): 22-28.
Al-Elq, Abdulmohsen H. "Simulation-based medical teaching and learning."Journal of Family and Community Medicine 17.1 (2010): 35.
Kirsh, David. "A few thoughts on cognitive overload." (2000)
King, E., Abeyewardene, O., York, J., Nielsen, M., & Uddin, R. "Simulation Flowchart." Charles Sturt University (2015): 1.
About the Author
Rafi Uddin is a paramedic student in the final year of his Bachelor of Clinical Practice (Paramedic) degree at Charles Sturt University in Bathurst, Australia. Rafi also works part time as a Disability Support Worker for the respite division of Glenray Industries. Rafi's interests lie in exploring and improving various aspects of EMS education from a student perspective. Contact Rafi at: rafiduddin@yahoo.com.au
Request product info from top Patient Simulation companies
Thank You!