5 EMS communication tools for major sporting events
These technological tools are designed to help responders communicate with one another at events, putting all providers and agencies on the same page
---
Responding to and managing large-scale sporting events can bring a myriad of problems for EMS. Multiple patients, evacuations, delayed response times, compromised safety of responders, limited access, crowd control and poor communication are just a few of the concerns.
Clear and concise communication is a fundamental component that must be implemented at every level.  
"For effective communication to work, everyone needs to be one the same page" said Candace G. Johnson, director of event operations for DC Events, which manages several large-scale sporting events including the Rock and Roll DC Marathon finish line festival.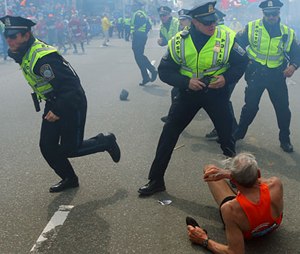 Here are some tools that can help managers communicate before, during and after an event.
Mutualink Technology was successfully used for the 2014 Boston marathon. It enables secure interoperable resource sharing of radio, "real time" video, voice, and data across incompatible systems.
Numerous entities can share multimedia information connecting local and state police, fire, emergency operations centers, transit, private companies, hospitals, utilities and federal agencies.
2. Sonim
Ideal for field operations, Sonim, is a back up to the traditional two-way radio. The rugged smart phone offers 24 hours of talk time and 800 hours of standby. The device is waterproof, shock proof and comes with extra loud speakers.
3. OnPage
Text messages are valuable when you can't hear in the midst of a crowd. OnPage provides text messages directly to the crew's cell phone. Administrators also receive a notice when a responder delivers, reads, or replies to a text.
4. First Responder Network Authority (FirstNet)
During emergencies wireless circuits can become overloaded, and responders will benefit from their own secure network.
The First Responder Network Authority (FirstNet) is an independent authority within the National Telecommunications and Information Administration, which is working to establish, operate and maintain the first nationwide, high-speed, interoperable broadband network dedicated to public safety and emergency responders. To fulfill these objectives, Congress allotted $7 billion and 20 MHz of valuable radio spectrum to build the network.
5. BeOn
BeOn is a product of Harris Pubic Safety and Professional Communications, and was used in the Texas Ironman to assist with communications and tracking. It extends the radio communication range beyond that of a traditional network, providing access to situational awareness tools that radios networks normally don't have.  
BeOn essentially turns a responder's smartphone into a P25 push-to-talk radio, utilizing enhanced LTE network connectivity. The mapping features also track the locations of first responders and emergency vehicles, enabling  them to route appropriate resources and increase overall response efficiency.

Request product info from top EMS Communications Interoperability companies
Thank You!