EM Innovations aims for safer drug disposal
Medication is rendered inert and unable to contaminate water supplies
---
EM Innovations announced Drug Dispose All, a medication disposal method that aims to provide an environmentally safe way to protect against unintended exposure to controlled substances.
Drug Dispose All is a premixed solution available in eight ounce and one gallon containers. The solution renders unused and out-of-date medications inert in 30 minutes, at which the entire container can be disposed without harmful environmental side effects, such as ground water contamination.
Users place tablets, capsules, liquids or patches into a premixed bottle, recap and shake. After 30 minutes, the solution will rise to a fi­ll line on the side of the bottle signifying the process is complete.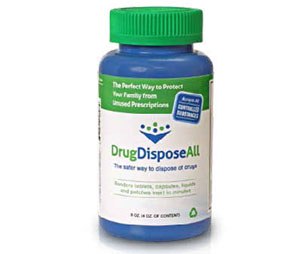 Drug Dispose All also protects against unintentional overdose by rendering medications non-retrievable, permanently altering the substance's physical and chemical condition and making it unavailable and unusable for all practical purposes.
EM Innovations' Drug Dispose All meets the guidelines of the DEA's Secure and Responsible Drug Disposal Act of 2010.
Eight ounce containers are $10.94 and one gallon containers are $73.49. Both can be purchased through EM Innovations' website here (http://www.eminnovations.com/).