What to expect in paramedic school, clinical rotations, and field internship
A book review of "Lights and Sirens: The Education of a Paramedic" by Kevin Grange
---
Lights and Sirens: the Education of a Paramedic is an autobiographical account of Kevin Grange's paramedic training at the acclaimed UCLA Daniel Freeman / Center for Prehospital Care Paramedic Education Program. Seasoned paramedics will be reminded of what made paramedic training so difficult and awesome at the same time and aspiring paramedics will benefit from insights of what is ahead for their training. Grange's account takes readers through the trials and tribulations he and his classmates encountered in the classroom, skills lab, scenario testing, simulations, emergency department clinical rotations, and field internship with the LAFD.
There are many paramedic books that simply chronicle the tragic, odd, violent and occasionally uplifting patients which paramedics encounter everywhere. Michael Morse (Rescuing Providence and Responding), Peter Canning (Paramedic on the Front Lines of Medicine), Michael Perry (Population: 485 - meeting your neighbors one siren at a time), and Kelly Grayson (En Route: A paramedic's stories of life, death, and everything in between) have published outstanding memoirs of life on the streets and the stress of being a paramedic. While their books have a narrative arc and compelling characters, they usually launch with the ambulance leaving quarters and well into the author's EMS career.
Grange's account is unique because he is writing at the cusp of his EMS career. As the reader follows him through school the final outcome - surviving a challenging internship with the LAFD - is very much in doubt. Especially, as several of his classmates fail out of the program when they are unable to meet the very high performance standards.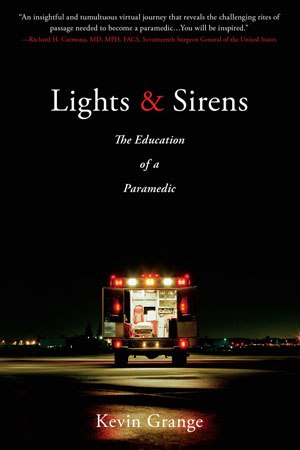 For EMS educators, "Lights and Sirens" is a great glimpse into the day-to-day operation of the well-known UCLA Center for Prehospital Care. The paramedic program teachers, skill instructors and directors, including Dr. Baxter Larmon and Heather Davis, are internationally known and recognized for their leadership and research into effective paramedic education. Grange's account of the program sequencing - classroom to clinical to field internship, the criteria to stay eligible to complete the program, and specific instructional activities - gave me ideas and inspiration for my role as an educator and paramedic program advisory chair. For educators, UCLA has many features to emulate and replicate.
Among the challenges that Grange and his classmates face is four days a week of classroom lectures for four months, two months of clinical rotations - mostly in the emergency department, and then two dozen 24-hour shifts with an LAFD ambulance. Grange goes beyond a simple play-by-play account of his experience and delves into his emotions as well as the role of paramedics in the health care system. He writes this about a visit to the UCLA cadaver lab during the A&P section of the course:
"As I stood there, a human heart in my I hads, I though several distinct things: I was reminded again of the sacredness of human life...And I felt that UCLA's medical school was validating the work paramedics did by inviting us students to their main campus...They didn't consider us mere operators of a red taxi with the word "ambulance" written on the outside, but an important link in the continuum of care that began with a 911 call and ended - hopefully - with the patient walking out of the hospital."
The final section of the book - the Field Internship - is the most gripping. Every patient encounter is an experience for Grange to learn and a harrowing opportunity to fail. Grange is honest about his struggles to meet the expectations of his preceptors while trying to apply his classroom and ED experience to very ill or injured patients in difficult situations.
For experienced paramedics I think "Lights and Sirens" will take you back to the anxiety and struggles of paramedic school. For aspiring paramedics you won't master 12-Lead ECG interpretation or a dopamine drip calculation, but you will get helpful insights about the challenges that are ahead for you in paramedic school.
"Lights and Sirens: The Education of a Paramedic" is available on Amazon and wherever books are sold.