PRESS RELEASE
Bound Tree Medical Bringing Awareness to the National Stop the Bleed® Campaign
---
DUBLIN, Ohio – Bound Tree Medical, part of the Sarnova family of companies, and the leading national specialty distributor of emergency medical products in the emergency medical services (EMS) market, announced their involvement in the national awareness campaign, Stop the Bleed®.
The Stop the Bleed® campaign and related National Stop the Bleed® Day (May 23, 2019) is currently one of the largest public health initiatives in the United States. The campaign is aimed at directly saving lives—through an effort to increase public awareness and encourage people and organizations across the United States to get trained with life-saving Stop the Bleed® techniques so they can be ready to act and stop everyday instances of life-threatening bleeding in their homes and communities.
To help spread awareness and to aid those on the front lines of emergencies, Bound Tree has created a free, custom eBook to educate bystanders on the Stop the Bleed® campaign entitled: What You Need to Know to Stop the Bleed: A Resource Guide. The eBook is available for download on Bound Tree's website (www.boundtree.com).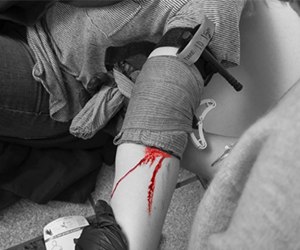 Bound Tree is also promoting multiple free CEU credits, like Trauma and Active Shooter Response, through their educational hub for EMS, Bound Tree University (www.boundtree.com/university). The University site is also filled with videos, quizzes and other Stop the Bleed® related information.
Also this month, Bound Tree is offering discounted pricing on a variety of bleeding control supplies in an effort to make these products more affordable to communities across the U.S. These types of products include trauma dressings, hemostatic gauze, chest seals, tourniquets and bandages – all of which are used to treat life-threatening bleeding and increase patient survival.
"It takes a special kind of person to have not only the know-how, but the determination and grit to jump into a dangerous situation and try to help people," said Brian LaDuke, President of Emergency Preparedness.
"And as our customers' partner in EMS, we thought that we should not only shed some light on the national Stop the Bleed® campaign, but also be able to give some tools to first responders and bystanders to help them be better prepared" he continued.
To learn more about the Stop the Bleed® campaign, visit www.boundtree.com/university/stop-the-bleed.
About Sarnova and Bound Tree Medical
Sarnova is the leading national specialty distributor of healthcare products in the emergency medical services (EMS) and acute care markets. The company is comprised of four major business units: Bound Tree Medical, Cardio Partners, Emergency Medical Products and Tri-anim Health Services. Bound Tree Medical is a leading, nationwide distributor of emergency medical equipment, supplies and pharmaceuticals to EMS, fire and other first responders. For more information, visit www.sarnova.com.

Request more info from Bound Tree Medical
Thank You!