Moving bariatric patients just got easier
The latest BEAR connects to a stair chair to safely transport large patients up and down multiple stories
---
Expert Analysis: Earlier this week, an EMS1 reader reached out to me via email, lamenting about some of the crass comments that were written about obese patients. Indeed, it's pretty interesting how some of our colleagues view obese patients. Fortunately, most of the comments on the thread were in rebuttal to the few crass ones. Practice professionalism with bariatric patients
Obesity is a growing problem, no pun intended. The average weight for men 20 to 74 years old rose dramatically from 166.3 pounds in 1960 to 191 pounds in 2002. The new BEAR Stair Chair helps EMS providers address this challenge.
BEAR-iatrics, Inc is known for the BEAR, or Bariatic Equalizing Abdominal Restraint, which I've written about earlier. The BEAR products all share one design principle: They keep the loose mass of the obese patient from shifting around. If the abdomen isn't moving around, it's easier to control and move the patient.
One or two belts simply are not enough to safely secure an obese patient to a tiny seat. Frankly I've never used a stair chair on a very large patient for this very reason. But often there just isn't any good way to get these patients down stairways. Where are the biggest patients when you arrive on scene? The second story, of course — unless there is a third floor. Then you will inevitably find them up there.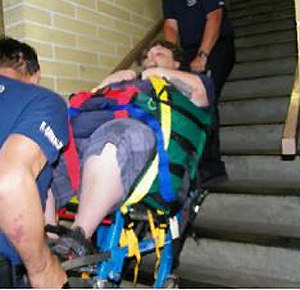 How it works
The latest version of the BEAR is built for use with a stair chair. It's a great solution to a tough problem. Most stair chairs have fairly small seats, usually only about 20 inches wide. This helps make them easy to store. But with an obese patient they can be a little scary.
The BEAR attaches to the frame of the stair chair and wraps around the patient's abdomen in two directions. The lower part then comes up and around the thighs and hips. The top bands feed through clever pockets that allow for length adjustment.
It does a great job keeping the patient and their abdominal mass centered and in place. This opens up an important new means of moving these patients down stairs.
Power combo
We now have newer powered stair chairs available with astonishing weight capacities. Used in junction with a powered chair, the BEAR Stair Chair opens up a whole new realm of possibilities.
In a video of a demonstration at the 2013 EMS World Expo, you can see a very large patient being moved both up and down stairs in the Ferno EZ Glide stair chair with Power Traxx. At one point he tries to shift his mass in the chair. This would be disastrous in most real world situations. The BEAR Stair Chair does a great job of keeping him firmly in place.
The EZ Glide makes moving him look so easy. Tom Cox of Ferno even shows off a little by briefly maneuvering the chair one-handed. It is plain to see this is a one-two combination of products that really works. For more information on the BEAR Stair Chair, check out BEAR-iatrics website.