How to buy ambulances
Here are the top seven things to consider when making an ambulance purchase
---
By Jim Love
Former AMR National Director of Safety and Risk
No single purchase is more expensive than the purchase of an ambulance. Given the expense involved and the length of time the vehicle will be in service, it's a big decision to make and you have to be aware of several factors. Here are the top seven things to consider when making an ambulance purchase:
1. How will the vehicle be used?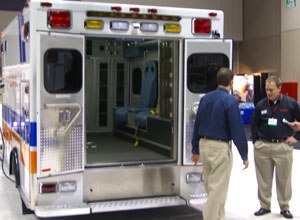 Will it be ALS or BLS, rescue or transport only, rural or urban? Basic Life Support, non-rescue vehicles, require less equipment to be carried and therefore smaller vehicles may be used. Rural use may require the need to carry additional equipment.

2. Is 'green' important to you?
Many things impact miles per gallon and ambulances historically have never been designed to maximize fuel efficiency. However, Dodge/Mercedes Sprinter's claim of 22MPG seems to have sparked renewed interest in the vehicle in recent times. Meanwhile, in part due to upcoming emission standards, Ford has announced the end of the 6.0L diesel in the Econoline effective at the end of this year. The workhorse we have known for decades will no longer be available. The diesel will be replaced with a 6.8L V-10 gasoline engine.
Weight is another fuel efficiency factor. The vehicle itself and the aftermarket enhancements such as cabinetry and re-enforcement can all impact weight, along with equipment and personnel carried. Some ambulance manufacturers are beginning to use composite materials to build cabinetry in order to maintain strength while reducing overall weight.
Read about how solar-capturing technology has made it easier to keep ambulances and fire trucks fully charged without leaving them running, and saves money
3. Structural Integrity
Not all ambulances are created equal. They don't all have the same amount of reinforcement. The federal government has the most widely used regulation governing the manufacturing of ambulances. Within these guidelines are minimum structural requirements. Vehicle integrity is determined using static weight testing and no crash testing is required.
Unfortunately all the re-enforcement materials are behind the walls, out of sight. Ask manufacturers about how they measure up. Compare responses. Ask to tour the manufacturing facility so you can see for yourself. Ask yourself, "Am I satisfied with only the minimum?"
4. What safety factors are built into the vehicle?
Pay attention to how personnel and equipment will be secured in the patient compartment. Evaluate whether medics can perform most of their job without the need to leave a safe, secure position. This has not been the standard in the ambulance industry, but in recent years there has been a big push to improve safety for the vehicle occupants.
5. Availability of parts
There are regulations in the United States that address the availability of parts including vehicles manufactured outside the country. However, with GM and Chrysler facing bankruptcy and the possible impact in turn on parts manufacturers, this is something you should be aware of and question the manufacturer on.  
6. Life of vehicle
There are two practical vehicle "lives." The first relates to how long you will use the vehicle for. Sometimes this is determined by contract or regulation. In many areas this has been shortened to three years. Other services will base this on internal policy and experience. The second practical life of the vehicle is its aftermarket use. An ambulance that is used for only three years is still a high value vehicle; for some companies as a primary response vehicle, for others a sound back-up vehicle.

7. Price
All the items above will impact the price you pay. Changing from diesel to gas-powered vehicles will require a change in parts. Incorporating safety features also costs money. But the bottom line is that if you want a structurally sound, safe and green vehicle, it will cost more upfront to purchase. But it will have paybacks. You will save on fuel and, depending on what you choose, you may be able to expect fewer or less severe injuries based on safety design. Only you know your individual reimbursement rates and percentages. Only you can decide whether you will receive a return on your investment.
Jim Love began his EMS career in 1974. Since that time he has worked providing direct patient care, and has been an FTO. He transitioned to management and has held many positions over the years including operations and later focusing on training, safety and risk management. His most recent position was National Director of Safety and Risk for AMR. Prior to that, he was the Regional Director of Safety and Risk, CES and Fleet Services, also for AMR. He worked extensively on the development of all three Safety Concept Vehicles co-built by AMR and AEV. He maintains an EMS Safety site and blog, EMSafety.net, and can be contacted at drjlove007@gmail.com.

Request product info from top Ambulances companies
Thank You!