Protecto Wrap Introduces High Performance Extrication Wrap
---
New Safety Wrap Protects First Responders as well as Emergency Victims
Denver, CO — Protecto Wrap Company, a leading manufacturer of construction products, has introduced Protecto Extrication Wrap™, a new high performance self adhering membrane that protects First Responders as well as collision victims from sharp metal and glass edges.
Upon arrival at an accident scene, Emergency Workers can quickly assess the situation using Protecto Extrication Wrap to harden the path of egress for safe rescue operations.  Protecto Extrication Wrap is easy to use; just peel and stick.  The thin conformable facer allows the user to quickly cover sharp irregular areas that could potentially cause greater injury.   Protecto Extrication Wrap can be used to hold broken glass together for safe and efficient removal. 

use if there is a picture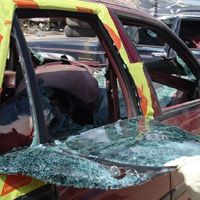 end picture
Protecto Extrication Wrap
adheres to steel, aluminum, glass, vinyl, plastic, wood as well as almost any painted or unpainted surface.  This high performance safety wrap protects First Responders and Emergency Personnel from sharp edges caused by auto collisions, collapsed buildings, disentanglement tactics and is approved for Urban Search and Rescue Operations. use if there is a picture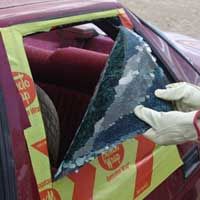 end picture
Despite the fact that the product has only recently been introduced, Protecto Extrication Wrap is already highly in demand for Extrication Protection by Professional First Responders.  The Extrication Wrap is economical and comes in 12" x 50' rolls.  One roll lasts through many extrication procedures.  Product information is available at www.extricationwrap.com.
The tough three ply film resists puncture and tearing.  Tensile strength is 80 psi and puncture resistance is 2300 psi.  Protecto Extrication Wrap is 25 mils thick and has cold bend pliability to -30 degrees F.  Its pressure sensitive adhesive technology adheres down to 0 degrees F.  Protecto Extrication Wrap's distinctive look uses bright yellow and red arrows and serves as an emergency safety chevron and danger warning sign.    
In October, 2009, Protecto Extrication Wrap was used by team NARVA of the United States in a Professional Emergency Competition in Germany.  The US team came in Second.  Protecto Extrication Wrap is so economical and easy to use it is no wonder that so many First Responders, Fire Fighters, Emergency Workers, and Ambulance Personnel carry a roll with them.  
About Protecto Wrap Company
Protecto Wrap Company has been manufacturing insulating, waterproofing and protective membranes since 1952 and has built a sound reputation for producing the highest quality materials available on the market today. Their products meet or exceed industry standards and they offer the benefits of their experience and field service to back the quality of their products.
For more information, visit www.extricationwrap.com.