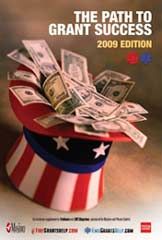 Fire and EMS Departments seeking grant assistance now have one more resource to help them along the way to grant success. The newly released "The Path to Grant Success, 2009 Edition"(PDF) is designed to help fire and EMS Departments with the fundamentals of accessing and securing grants.
Now more than ever, the fiscal demands inherent to our industry are taking their toll on fire and EMS departments nationwide. Many departments are faced with the challenge of providing the highest level of services available on a thinning budget. It's critical for fire and EMS departments to carefully examine alternative funding streams that can supplement existing budgets. Grants will undoubtedly continue to play a major role in providing the equipment, staffing and tools first responders need to safely and efficiently do our jobs each day.
The new supplement The Path to Grant Success offers valuable information on the 5 steps to grant success, from identifying projects & budgets to submitting applications. Details on AFG, SAFER, and grants from companies like Fireman's Fund and State Farm are identified in the supplement, along with some tools & resources on where to get more information.