PRESS RELEASE
emsCharts Launches Online Interface with ZOLL EKG Monitor/Defibrillator
---
October 13, 2015 - emsCharts, a leading provider of clinical charting solutions for the emergency medical industry, announces the ability to pull data from the ZOLL® X Series® Monitor/Defibrillator directly into emsCharts.com.
The emsCharts EKG Import to Web allows vital sign data, wave forms, and events from the X Series to be pulled directly into the patient record on emsCharts.com. This decreases documentation time for crews and streamlines the entire data entry process. Historically, this data import ability has only been available via the emsCharts Mobile application for Windows devices. Now, EMS agencies using ZOLL's X Series® can pull critical ECG data directly into their online emsCharts ePCR via their ZOLL online account.
"We are pleased that emsCharts is providing their X Series customers this improved workflow for efficiently collecting clinical data, which can further improve patient care," said Jonathan A. Renert, President of ZOLL Medical Corporation.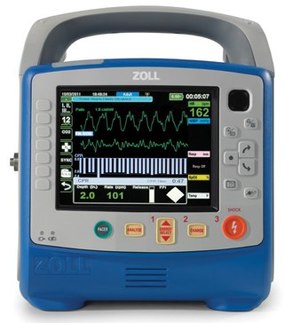 Brian Rowe is the Director of Finance & High Performance Initiatives for On Time Ambulance, Inc. in New Jersey, which participated as a beta test site for the emsCharts ZOLL EKG interface to web module. On Time Ambulance uses the emsCharts SyncPad application for iOS to collect field patient data. "The emsCharts online interface with ZOLL allows our SCT [Specialty Care Transport] units to use iPads for field charting. With increased reliability and speed, the interface has reduced the amount of paper EKG printouts and scans to our billing office, resulting in more efficient documentation and faster reimbursement."
"We are very pleased to provide this additional avenue for customers to streamline their data collection processes," says Pete Goutmann, President and Chief Technology Officer of emsCharts. "Our philosophy has always been to provide the most flexible solution for our customers. Collaborative, third-party interfaces such as the EKG to Web module are a demonstration of this."
emsCharts helped to pioneer real-time and electronic data collection with the use of the Web to connect first responders with hospitals and reporting agencies. This expedited the entire process and left clinicians with more time to focus on patients' needs. emsCharts offers mobile, offline, and iPad versions of their web product.
ZOLL Medical Corporation, which manufactures and markets the X Series, is an Asahi Kasei Group Company, based in Chelmsford, Massachusetts.
About emsCharts
emsCharts (www.emscharts.com) provides pre-hospital care professionals with dynamic, state-of-the-art solutions for optimized patient health care, quality assurance and operational productivity. Developed in conjunction with medical and public safety professionals, emsCharts software products provide a total integrated solution for Electronic Patient Care Records (ePCR). emsCharts, a Golden Hour Company, provides technology through a cloud based Software-as-a-Service (SaaS) delivery model at a flat monthly fee.