How to buy an AED
8 steps to purchase an AED for your department
---
Article updated October 17, 2018
Purchasing an AED can be as easy as going on the Internet, clicking a couple of buttons and entering your department's credit card information. Within a few minutes you will have a confirmation email guaranteeing delivery of an AED within two to three business days.
Though it is easy to purchase an AED, there are several factors to consider to ensure a successful AED purchase for your department.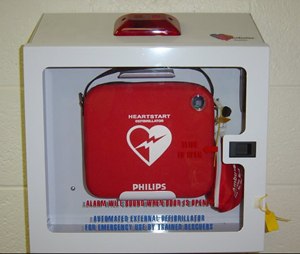 1. Decide on AED features  
The most important features of an AED are simplicity, reliability and durability. A few AEDs are water resistant while others are shock resistant to damage from being dropped.
AEDs are offered in two categories, semi-automatic and fully automatic. Semi-automatic defibrillators only deliver a shock after the operator pushes the deliver-shock button. Fully automatic defibrillators shock when the unit detects a shockable cardiac rhythm.
2. Ask questions about the AED
What is the AED manufacturer's track record for recalls, support, and product quality?
"When choosing a unit make sure you choose an AED that has a low recall rate. If you have a recall it can affect your entire fleet of AEDs," said Jason Boudreault EMT-B, BLS Regional Faculty and Emergency Cardiovascular Care Chair for Northern California.
How will the company handle software updates for new treatment guidelines?
The American Heart Association (AHA) regularly releases new CPR guidelines that might impact the amount of energy delivered by a shock, the frequency of shocks, or the voice instructions for chest compressions between shocks.
When updates are required will you have to return the AED to the vendor or will they send a local representative to your station? Some vendors might be able to loan you up-to-date devices while your department's AEDs are re-programmed or serviced.
3. Know local and state requirements
When purchasing an AED, make sure you consult with your department's medical director. Review applicable local and state laws to determine the requirements for equipping a vehicle or a building with an AED.
Local AED regulations often require up-to-date records of proper AED inspection and maintenance. Those records should include documentation of monthly AED inspections, training records for personnel, maintenance or repairs performed, usage, and defibrillation pad and battery expiration dates.
4. Obtain an MD prescription
An AED purchase requires a prescription. AEDs are manufactured and sold under guidelines approved by the Food and Drug Administration (FDA). Most AED vendors will provide the prescription with your purchase. Otherwise contact your medical director for a prescription.
5. Determine your budget
The cost of a single AED ranges from $1,000 to $2,400. Prices for packages, that include adult and pediatric defibrillation pads, batteries, storage case and CPR accessories range from $1,200 to $2,800.
"When considering your budget, you have to take into account more than the initial cost of the AED," said Marco DeVito, EMT-P, an AED consultant in Illinois.
In addition to the initial purchase of the AED and accessories you will have to periodically replace the AED's batteries and defibrillation pads. You should expect to replace the pads every two to three years depending on the model and replace the batteries every few years.
Most AED unit batteries are specific to the model and can only be purchased from the manufacturer. Other AED units use alkaline batteries that can be bought from any store that sells batteries.
Don't forget to factor training costs into your initial budget, especially for the non-EMS personnel in your organization that will now have access to an AED. Provide regular refresher and recertification training on AED use and CPR.
6. Grant funding for AED purchasing
There may be AED grants available from local foundations and civic organizations. Make sure you are accessing up-to-date information about grants and beware of companies that say they offer grant assistance, but then overprice the AED. Many state and public health departments have grant programs to assist municipalities or first responder agencies with an AED purchase.
The best resource for AED grant information and funding are local and national non-for-profit agencies that work to raise awareness of sudden cardiac arrest. WNBA basketball player Tina Charles Hopey's Heart Foundation provides AEDs to schools and recreation centers.
7. Purchase medical direction and AED management
You may benefit from adding a medical direction and AED management package to your purchase to help keep your AED program compliant with local and state laws for public access defibrillation requirements.  
Program management helps with easy tracking of expiration dates, AED placement maps and status of AED trained responders. There are a number of web-based programs, remote tracking services and other services available to meet your specific needs.    
8. Get the word out
Let the citizens and stakeholders for your agency know that you have purchased a new AED. When the City of West Chicago police department purchased and deployed 12 AEDs in their police officers' vehicles, they publicized on the town's website. Other ways to announce might be press conferences with local media and survivors of cardiac arrest. Your department can also post pictures of the new AEDs to its social networks and begin a conversation with the community. 
Some organizations are using the AED cabinet to make naloxone for opioid overdose and tourniquets for severe bleeding easily available to bystanders. If your department takes these additional actions make sure to advertise these features to the community. 
Finally, with dozens of AED models to choose from, don't take the task of purchasing an AED without due consideration. Purchasing new AEDs for your department will take some hard work and commitment, but it will ultimately save lives in your community.

Request product info from top AEDs companies
Thank You!