Study: Cardiac arrest survival doubles when bystanders use AEDs
An American Heart Association study found that the longer it takes responders to arrive, the greater a patient benefits from a bystander-administered AED shock
---
By EMS1 Staff
DALLAS — A study by the American Heart Association found that cardiac arrest survival greatly increases when a bystander uses an AED before responders arrive.
Researchers analyzed almost 50,000 out-of-hospital cardiac arrests and found that the survival rate doubled among patients who received an AED shock by a bystander.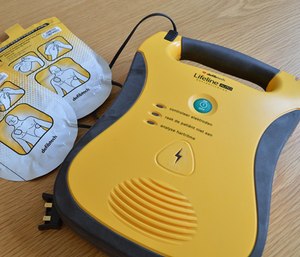 The study also found that the longer it takes for responders to arrive, the greater a patient benefits from a bystander-administered AED shock.
AHA said that less than half of cardiac arrest victims get the help they need in the time it takes for responders to arrive, partly because the average time it takes responders to reach the patent is between four and 10 minutes.
"We estimate that about 1,700 lives are saved in the United States per year by bystanders using an AED," senior study author Myron Weisfeldt said. "Unfortunately, not enough Americans know to look for AEDs in public locations, nor are they are trained on how to use them despite great and effective efforts of the American Heart Association."
Researchers said they would like to see more AEDs more greatly distributed, including giving police officer defibrillators in areas where responders take longer to reach the patient
"Bystanders have the potential to save a life," Weisfeldt said. "This should be a great incentive for public health officials and bystanders to strive to have AEDs used on all victims of cardiac arrest."

Request product info from top AEDs companies
Thank You!