Parents raise funds to purchase AEDs for Ind. first responders after death of son
Colton Davis' death in 2019 spurred his parents, Brett and Erin Davis, to start a fundraiser to help purchase AEDs for LaPorte County first responders
---
By Rachel Engel
MICHIGAN CITY, Ind. — After a 12-year-old boy died after going into cardiac arrest during an ambulance transport that was not equipped with an AED, his family is working to ensure that scenario doesn't happen again.
The death of Colton Davis in 2019 spurred his parents, Brett and Erin Davis, to start a fundraiser to help purchase AEDs for LaPorte County first responders, WNDU reported.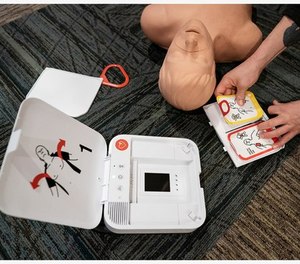 "We have to make sure that that doesn't happen to somebody else," Erin said. "Somebody else's kid. Someone's grandparent. To anyone."
The couple created a GoFundMe page that has already raised enough to purchase two AEDs for the community. 'Bolt for the Heart,' an Indiana non-profit organization, committed to matching the donations raised by the Davis' and is holding a charity marathon for the cause.
"We're doing a 5K run in Michigan City on Oct. 30 with the sole focus of raising money to put AEDs in the rest of the LaPorte County Officer cars. Eighty-five AEDs is the goal," Pierre Twer, Bolt for the Heart president and founder, said.
Additionally, the Davis' want to ensure community members know how to use the devices to save a life.
"We also want to teach the awareness of being able to perform CPR," Brett Davis said. "There were a lot of things that happened that day that shouldn't have happened. You have to be ready at any given time to perform CPR or use an AED."

Request product info from top AEDs companies
Thank You!