EMS Today 2009 Product Roundup: New Products
---
By EMS1 Staff
While scaled back a bit from last year, EMS Today 2009 in Baltimore still amassed the industry's top thinkers, popular vendors, and providers from around the world into one area. There is no better place to debut new products and technology that seek to supplement and propel the EMS industry to new heights. Check out some of the products that made their EMS conference debut in Baltimore.

Allied Healthcare Products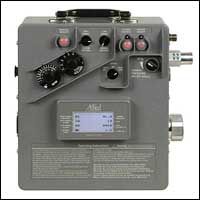 The MCV100 by Allied Healthcare
Allied Healthcare Products is taking a different approach to ventilation in the prehospital environment. Its booth at EMS Today focused on its new line of MCI ventilators designed to be used at large incidents with a high number of patients.
Launched last year, the MCV100 Mass Casualty Ventilator combines elements from both critical care ventilators and pneumatic EMS ventilators. The MCV100 is a robust, simple, light-weight ventilator that is able to be stock-piled due to its low maintenance (four months for battery recharges; three years for minimal replacement).
The MCV 100 delivers ambient air or oxygen at tidal volume range of 200 to 1200 ml, as well as safety alerts. Price ranges from $2,800 to $3,500. For more information, visit http://www.alliedhpi.com/mcv.htm.

Intubrite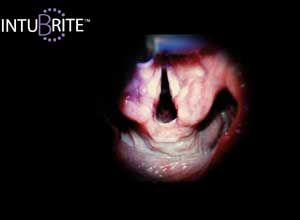 A view from Intubrite
A new product that garnered attention from conference show attendees was the Intubrite Laryngoscope Blade. Using its HyperVisualization System, Intubrite features a dual system of white and black lights that illuminate the vocal cords during intubation.
The accompanying stylet is coated with a phosphorescent material that activates under the black light, and clearly shows passage through the vocal cords. The Intubrite blade is constructed of stainless steel and sits at a 50-degree angle with the ergodynamic aluminum handle.
Priced at about $300, Intubrite offers a simple and colorful way to increase first pass success of intubation. For more information, visit http://www.intubrite.com/.

Laerdal Medical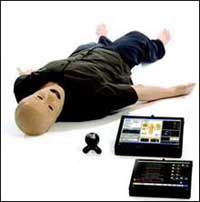 The Laerdal SimMan 3G
The Laerdal Medical booth was once again a main attraction at EMS Today, with its life-sized manikins on display to be tested out by attendees. The new kid on the block was the SimMan 3G, the latest offering in simulation technology from Laerdal.
The prototype on display shares many of the same features of its brothers – programmable scenarios, CPR feedback, life-like reactions – but now is completely wireless and self-contained, making it accessible to even more classrooms.
The SimMan 3G features a new debriefing functionality, as well as reactive eyes, real secretion of fluids, and audio/visual cues. For more information, visit http://simulation.laerdal.com/.


Panasonic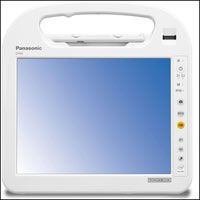 The Toughbook H1 from Panasonic
Panasonic Toughbooks have become industry staples for providing rugged, EMS-friendly laptops that can be used to access data out in the field. At EMS Today, Panasonic unveiled its latest, most portable addition to the line: the Toughbook H1.
Tagged as the Rugged Mobile Clinical Assistant, the H1 is built specifically for use in the healthcare industry. Weighting at about 3.4 lbs., the Toughbook provides Windows OS-access and wireless network technology, all displayed on a 10-inch touch LCD screen.
The H1 is completely sealed and can be easily sanitized, making it ideal for getting patient signatures and recording patient information at the scene. The Toughbook runs on twin lithium ion batteries that run for about six hours without a recharge, and can be swapped out on the fly.
Other features include a built-in 2.0 MP camera, an RFID scanner, and optional barcode reader. For more information on the H1 and other Toughbook products, visit www.panasonic.com/toughbook/.


Physio-Control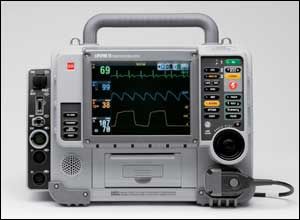 The Physio-Control LIFEPAK 15
Just attaining FDA approval last week, Physio-Control was in a prime position to promote its new LIFEPAK 15 monitor/defibrillator at EMS Today. Using feedback from LIFEPAK 12, the new monitor boasts increased durability and functionality out in the field.
Physio partnered up with Masimo this time around to incorporate the company's Rainbow SET technology for noninvasive CO and hemoglobin screening.
LIFEPAK 15 was tested for about 100,000 hours in water, wind, rain, and general abuse conditions in Physio's special durability lab. The monitor features a dual-layer screen protector that has a sturdy, replaceable outside shell — as demonstrated by an automatic hammer hitting the screen every two seconds at the booth.
The monitor also features a "black-to-white" option that switches color contrast at the press of a button to increase visibility when under direct sunlight. For more information, visit http://www.checkoutthefuture.com/.

Sunshine Kids Juvenile Products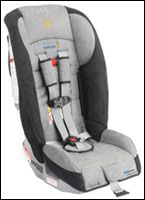 The Radian 65 from Sunshine Kids
When providers need to transport a pediatric patient, they often have to spend valuable time searching the scene for a suitable car seat to use. Sunshine Kids' line of Radian car seats can be secured to stretchers, and eliminates that hassle.
A first-time exhibitor at EMS Today, Sunshine Kids' car seats features 5-point child harnesses able to carry pediatric patients from 5 to 80 lbs, in either rear-facing or forward-facing configurations. The Radian 65 and 80 can be folded flat for convenient storage in the rig.
Having an accessible, reliable car seat stored on the ambulance ensures that provides will be able to transport pediatric patients regardless of circumstances. For more information, visit www.SKLP.com.


Stryker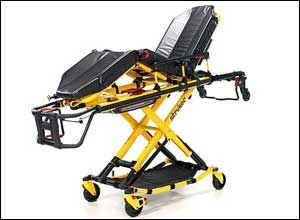 The Performance-PRO XT from Stryker
Stryker is one of the most trusted names in the EMS industry and a constant presence at EMS tradeshows. At EMS Today, the company came promoting a new product from its line: the Performance-PRO XT.
The XT is an all-aluminum manual cot based off of Stryker's power cot, Power-PRO XT, and is being touted as the lightest cot in the industry, weighing just below 90 lbs.
The cot features key functions such as a retractable head area for better movement, and an adjustable knee hatch that can prop up a patient's legs to prevent sliding and increase comfort. The XT ranges from $5,000 to $6,000.
A Stryker representative said that all Stryker products have rugged design, light-weight construction, and a reasonable price with all the necessary features intact. For more information on Stryker products, visit http://ems.stryker.com/index.jsp.


Turley Backboard Pad Co.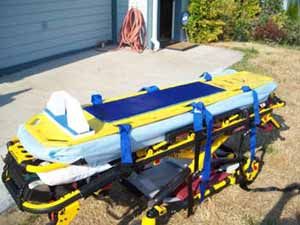 The Turley Backboard Pad
Chosen as a "top pick" from EMS EXPO last October, the Turley Backboard Pad continues to impress with its straight-forward design and singular focus on patient comfort.
The Turley Pad is made of a latex-free, anti-microbial "blue diamond gel" that provides a non-skid buffer between a patient's back and the hard backboard. The pad can be cooled or warmed in about 30 minutes by using either an IV fluid warmer or even the dashboard of the ambulance.
At the booth, creator Amy Turley said she first thought of the concept after being strapped onto a backboard during EMT training courses. The pad will help reduce painful pressure sores caused by the backboard, she said. For more information, visit www.turleybackboardpad.com.

Request product info from top AEDs companies
Thank You!