After cardiac arrest, NFL's Damar Hamlin backs bill to put defibrillators in U.S. schools
The measure would establish grants that schools could use to buy AEDs and to pay for training
---
By Anthony Man
South Florida Sun-Sentinel
PALM BEACH COUNTY, Fla. — Buffalo Bills safety Damar Hamlin joined an effort Wednesday to promote federal legislation to equip schools, and provide training, for administering life-saving treatment to athletes, students and others who go into sudden cardiac arrest.
Hamlin's on-field collapse during an NFL Monday Night Football game in January galvanized viewers. He received immediate, high-quality medical care, and survived.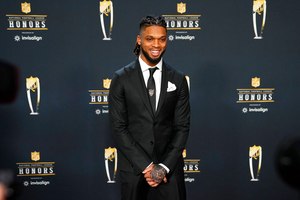 The legislation he endorsed, the Access to AEDs Act, was introduced this week by U.S. Reps. Sheila Cherfilus-McCormick, a Democrat who represents Broward and Palm Beach counties, and Bill Posey, a Republican who represents Brevard, Indian River and a sliver of Orange County.
The measure would establish grants to elementary and secondary schools that could be used to buy automated external defibrillation devices known as AEDs, batteries and maintenance, replace outdated cardiopulmonary resuscitation (CPR) and AED equipment, pay for training and help school athletic departments develop heart screening programs for student-athletes.
"As I was growing up playing football, I don't recall ever thinking about CPR or knowing where an AED was in my school or on the athletic field," Hamlin said at a Washington, D.C., briefing on the legislation with lawmakers and representatives of organizations advocating for the bill. "With my coaches on the field and my family in the stands we didn't plan what would happen if sudden cardiac arrest should happen to me or one of my teammates. On Jan. 2, that all changed."
People think of cardiac arrest — 350,000 cases this year outside of hospitals — as an issue affecting older people, said American Heart Association CEO Nancy Brown. And that's mostly true.
But statistics at the Wednesday briefing show it happens to younger people as well — more than 7,000 people under 18 have sudden cardiac arrest each year. Most are student-athletes, advocates for the legislation said. And the survival rate is higher at schools with AEDs.
In 2020, soccer player Mathew Mangine Jr. collapsed from southern cardiac arrest on a Kentucky field — just six miles from the Cincinnati stadium where Hamilin collapsed — and received stellar care from people who knew immediately what to do, said his father, Matthew Mangine Sr.
"There were five AEDs on campus. Yet no one retrieved an AED to apply to Matthew due to a lack of proper training," Mangine Sr. said. "By the time the ambulance arrived, it was too late."
In 2007, a constituent of Posey's, Cocoa Beach high school student Rafe Maccarone went into cardiac arrest as he was warming up for soccer practice in 2007. The 15-year-old died the next day. "Schools should have access to AEDs, obviously, and they should know how to use them. That's how we're going to save lives like Rafe's in the future," Posey said.
"When I was watching the game and I saw what happened to Damar, my heart sank," Cherfilus-McCormick said in a telephone interview. "It reminded me of when my kids were playing sports and when my brother was playing sports and you saw something happen on the field and you're like, 'Oh my God. Are they OK.'"
Cherfilus-McCormick, who was CEO of a home health care company before she was elected to Congress, said she wants people to know where AEDs are located and how they're used.
"It's easier for you to use the AED machine than it is for you to learn CPR. Everyone learns CPR, but they don't know how to use the AED machine. And even though it looks intimidating, it literally tells you what to do, every single step," she said.
Federal funding would broaden access, she said, so availability and training is widespread, regardless of a community's economic circumstances and "not based on what school you go to or what ZIP code."
Also pushing for the legislation are the American College of Cardiology, American Red Cross, National Basketball Association, the National Football League, Major League Baseball, the National Hockey League, the National Collegiate Athletic Association, the National Association of Secondary School Principals and multiple foundations.
The legislation has bipartisan support in Congress besides Cherfilus-McCormick and Posey.
Significantly, one backer is Senate Majority Leader Chuck Schumer, D- N.Y., who appeared at Wednesday's event wearing a Buffalo Bills jersey he'd been given by Hamlin with Hamlin's No. 3. "As majority leader, you get a little bit of clout around here. And I'm going to use that weight to bring my colleagues on both sides of the aisle on board and get this bill [to] become a law."
©2023 South Florida Sun-Sentinel.
Visit sun-sentinel.com.
Distributed by Tribune Content Agency, LLC.
McClatchy-Tribune News Service

Request product info from top AEDs companies
Thank You!