Why you shouldn't settle for happy employees
6 measures of employee engagement that define how providers feel about and will contribute to their agencies
---
New buzz words often infiltrate our daily workplace vocabulary as the business world continues trying to find ways to become more profitable. I'm sure many of us recognize the terms "synergy," "leverage" and "thinking outside the box" as frequent markers in discussions with colleagues. Some of these terms have been sufficiently overused to the point that they're included on various Internet lists aimed at stopping their use. However, some terms are actually beneficial to our organizational success, as they can serve as guideposts to focus our efforts.
The term "employee engagement" is becoming more mainstream in the government sector; therefore, public safety leaders should be cognizant of the complexities behind the term. Employee engagement may seem like a flowery method to refer to employee satisfaction or happiness, but these are actually not reflective of the engagement concept.
Buckingham and Coffman (1999) first coined the term employee engagement in their book "First, Break All the Rules," based on 25 years of employee and manager queries by the Gallup Research group. In the Buckingham and Coffman model, engagement refers to an overall measure reflective of an employee in the areas of:
Productivity
Commitment (loyalty)
Involvement
Enthusiasm
Satisfaction
Emotional connection within their role in an organization
Gallup Research found employee engagement has a statistically significant relationship with an organization's levels of employee retention, productivity, profitability, safety and customer satisfaction. They found a direct correlation between high levels of employee engagement and an increase in positive activities (such as productivity, profitability, safety, innovation) and a decrease in negative activities (such as employee turnover, absenteeism).
The impact of engagement on employee contribution to the organization
To better understand the complexity of engagement, let's use an analogy of a wagon wheel. Consider engagement as the outer rim of the wheel onto which various spokes (i.e. productivity, commitment, involvement, etc.) attach and come together centrally to form the axle (i.e. the employee). The axle of any wheel serves as the structure to bear weight and enable mobility of the wheel; similar to the role each employee has in contribution toward organizational success or failure. The strength of the axle determines whether a wheel functions or not. While it's possible to still use a wheel with a chipped, dinged or slightly warped rim, or even with a missing spoke or two, a broken or weak axle translates into inertia.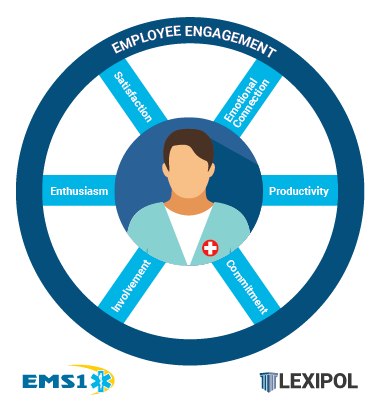 We've all encountered those employees who seem to be or who are becoming stagnant in their organizational impact. Likewise, we've all had experience with employees who seem to be an endless source of energy and enthusiasm in the workplace. The difference between the inert employee and the motivated employee is what business researchers are trying to better understand. Closing this gap may translate to higher performing organizations with greater retention of personnel and fewer wasted resources.
What we do know is that engagement isn't happiness. Happiness is a short-term feeling and does not reflect the level of commitment, investment or effort displayed by an employee. We also know that engagement isn't satisfaction, because it's possible for an employee to state they are satisfied, but contribute very little toward the organization by doing only the bare minimum required of them. It's also possible for an employee to be dissatisfied, and yet contribute a great deal toward the organization. We also instinctually recognize an engaged employee versus a disengaged employee when we come into contact with them.
Employee engagement can be difficult to define and control because of its multi-faceted structure, which creates a challenge for organization leaders to recognize and influence it. By focusing beyond happiness, we ensure our efforts address each of the wagon wheel spokes which help balance and strengthen employees. As engaged employees are more likely to positively contribute to an organization and less likely to leave, strengthening engagement strengthens our high-performing organizations as a whole.
Read next: 3 ways you're losing EMS providers and how to stop the revolving door