The Future Look of EMS Leadership
---
Where do you fit into your organization's hierarchy? Are you an EMT or paramedic working on the ambulance? Are you a front line supervisor? Middle manager? If you're a practitioner working the street, do you want to move up to a supervisory position? If you're already in a management or leadership position, do you want achieve more? How do you go about moving up; how do you prepare for promotion? What do you need to know? How will you acquire the knowledge, skills and experience you need to succeed? How well will you perform once you get promoted?
That's a lot of questions, I know, but if you are interested in making a career in EMS, if you'd like to improve your position in your organization, if you want EMS to continue to move forward as a discipline and as a profession, these are questions you should be asking. Unfortunately, many of those questions are difficult to answer. As we see in so many dimensions of EMS, the means and methods individuals use to make progress from being an EMS practitioner to a holding management or leadership position are very diverse. They are often inconsistent, inefficient and less than optimally effective. Fortunately, the situation for aspiring managers and leaders, to whom I will refer as "EMS officers," will improve.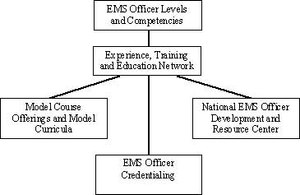 The National EMS Management Association (NEMSMA) released Emergency Medical Services Management and Leadership Development in America: An Agenda for the Future (Leadership Agenda) in October of 2008. This critically important landmark document proposes a pathway for the development of consensus standards and programs that address the management and leadership development needs of people like you, the people in EMS who hope to achieve management and leadership positions. Implementation of the agenda will also help EMS systems and organizations fill their need for qualified and prepared officers.
The agenda states, "This document envisions a future in which the roles of EMS officers are recognized as fundamental to the delivery of quality patient care, are clearly defined, and are supported with appropriate experience, training, education, and credentialing" (p. 3).

The agenda identifies five components related to the developing EMS officers: defined EMS officer levels and competencies; an experience, training and education network; model course offerings and model curricula; a National EMS Officer Development and Resource Center; and EMS officer credentialing. (See Fig. 1.)
EMS Officer Levels and Competencies
The Leadership Agenda suggests that we need to achieve broad agreement and industry-wide acceptance of common definitions of officer levels and on the competencies needed at each level. Although there have been previous efforts to complete this task, there is currently no single national consensus on EMS officer levels, the roles and responsibilities of individuals in various officer positions, nor on the competencies needed to fulfill the roles and responsibilities.
The National Association of EMT's (NAEMT) National EMS Chiefs, Officers, and Administrators Division completed substantial work to identify EMS officer levels and competencies. Likewise, the Fire and Emergency Services Higher Education (FESHE) EMS Management Committee has done work along these lines related to college and university EMS Management programs. Unfortunately, these efforts have not been unified. There is need for common terminology, language and clarity that will facilitate the success of our future leaders and managers.

Experience, Training and Education Network
There are many methods EMS practitioners use to acquire the experience, training, and education needed to succeed as an EMS officer. These include college classes, sessions at conferences, mini-courses, "boot camps," and various other programs. (See part one of "Professional Development" in the February issue of EMS Magazine for a list of some programs.) Once we have reached a consensus on EMS officer levels and competencies, we will begin to weave a network that incorporates institutions of higher learning, training programs, and workplaces to create an integrated structure of mutually supportive programs that ensure an individual can meet the described competencies. The programs within this network will create and share model courses and curricula.
EMS Officer Credentialing
Like the EMS Education Agenda for the Future that includes national certification as one of its endpoints, the NEMSMA Leadership Agenda includes EMS officer credentialing. At some point in the future, there will exist an organization that can attest to an individual's ability to demonstrate the competencies at the various EMS officer levels. This may be a certificate awarded based upon an examination, or perhaps on a portfolio review similar to the Chief Medical Officer process.
Credentialing -- in whatever form -- will ensure that individuals in EMS management and leadership positions have demonstrated sufficient knowledge, skill, and ability to meet the defined competencies. This also creates a set of performance standards that allow employers to know that candidates for management and leadership positions have achieved at least a minimum level of competency related to the defined EMS officer levels.
I highly recommend reading the Agenda. It is going to take significant work to achieve the vision the Agenda articulates. EMS needs people who are willing to do that work. We need people who are motivated to succeed, people who choose to participate in creating our future, people who believe that we can do more and be better at what we do. Are you one of those people?

You can download the Agenda here.