Quick Take: Planning for a line of duty death
Arrowhead EMS speaker implores EMS managers to plan and prepare for the inevitability of a LODD in their organization
---
Overview
Dwight Polk, paramedic program director for the University of Maryland Baltimore County, presented "Line of Duty Deaths: When it's one of our own" to EMS managers and field providers at the Arrowhead EMS conference in Duluth, Minn. Polk's presentation explored the psychological impact of line of duty deaths (LODD) on EMS organizations and the complexity in preparing for and delivering a "hero's funeral."
The recent tragic LODD and funeral of paramedic Captain Eric Steciak was used as a case study in the presentation. Polk, who also has a master's degree in occupational social work and is a clinical social worker, emphasized the lessons learned from this event and many other EMS and firefighter funerals to help organizations be prepared.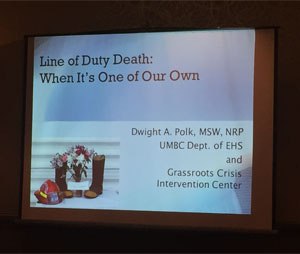 Most memorable quote
"If your department doesn't have a line of duty death policy you should begin working on one immediately."
Takeaways: we need to get the funeral right
In addition to defining the types of LODDs and reviewing causes, Polk emphasized the importance of getting the funeral right. Organizations are expected by their members, family, other emergency responders, and the public to deliver a tradition-rich and memorable ceremony that honors and celebrates the deceased. Polk shared these important takeaways to the audience.
An emergency contact form, updated for all department members and to only be opened in the event of a LODD, should include a request for which department member should notify the member's family and any wishes for a department-organized funeral or memorial service.
Any LODD incident is a crime scene and protection of the scene and evidence is critical for the investigation and potentially subsequent awarding of death benefits.
The family must be reached quickly. Death notification is best done in pairs, by members of a pre-selected and regularly trained Go Team.
Death notification needs to be truthful, in plain language, and convey caring, while allowing for grief reactions.
Media from near and far will be interested; engage with the media as a partner.
A 'Funeral Coordinator' needs to have pre-approved authority to organize the event and spend the organization's money.
All planning for the LODD funeral should defer to wishes of the family.
Only a trained and authorized spokesperson should speak on behalf of the department.
Additional personnel need to be assigned to the positions of 'Family Liaison' and 'Visiting Agency Contact.'
Polk serves as a mental health professional for 2 CISM teams and is a CIT trainer for the Howard County Police Department. He is the co-author of two textbooks; "Pre-Hospital Behavior Emergencies and Crisis Response"  and "Law Enforcement Responder: Principles of Emergency Medicine, Rescue and Force Protection."